Publication Type:
International Enforcement Actions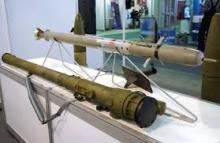 Update: On March 14, 2018, the United States Attorney for the Southern District of New York announced that Reza Olangian was sentenced to 25 years in prison and five years of supervised release for conspiring to acquire and transfer surface-to-air missiles to Iran, including to Iran's Ministry of Defense. The sentencing follows his November 2016 conviction. Olangian's lawyers reportedly will appeal his conviction and allege that Olangian's brokering was actually intended to expose Iranian efforts to circumvent U.S. sanctions.
Originally published: November 1, 2013.
On October 19, 2012, dual U.S.-Iranian citizen Reza Olangian was charged with attempting to transfer surface-to-air missile systems (SAMs) and aircraft parts to Iran in violation of the International Emergency Economic Powers Act (IEEPA). According to a federal indictment, in May 2012 Olangian traveled to Kiev, Ukraine and met with a confidential Drug Enforcement Administration (DEA) informant who was posing as a dealer in weapons and aircraft. Olangian discussed the specifications for the aircraft parts he wished to acquire with this confidential informant and later stressed the urgency of completing the transaction, saying he already had "a signed contract to provide the goods." In August 2012, Olangian – then in Tehran – also discussed purchasing an IGLA-S missile system from the confidential DEA source. When shown a sample SAM during a video-teleconference with the DEA informant, Olangian stated he would want "at least 200" of these missiles. Olangian also described his plans to smuggle the SAMs and aircraft parts overland into Iran from Afghanistan or another neighboring country. After his arrest, Olangian confessed that the SAMs he sought were for the Iranian government and that the aircraft parts were for use in Iranian military aircraft. He also reportedly admitted seeking to acquire SAMs for Iran's Ministry of Defense in 2007.
Olangian was arrested in Estonia, pursuant to a U.S. request, on October 10, 2012. He was extradited to the United States on March 26, 2013. If convicted, he faces a maximum sentence of life in prison.
Footnotes:
[1] Richard A. Serrano, "U.S.-Iranian Man Charged in Missile Plot," Charleston Gazette, October 26, 2013.
[2] "Manhattan U.S. Attorney Announces Charges Against Dual U.S.-Iran Citizen for Conspiring to Acquire Surface-to-Air Missiles for the Government of Iran," Press Release, United States Attorney's Office for the Southern District of New York, October 25, 2013.
[3] Indictment, United States of America v. Reza Olangian, a/k/a "Raymond Avancian," a/k/a "Ray," Case Number 1:12-cr-00798-LAP, U.S. District Court, Southern District of New York, October 19, 2012.
[4] "Dual Iranian-American Citizen Sentenced To 25 Years In Prison For Conspiring And Attempting To Acquire Surface-To-Air Missiles And Other Items For The Government Of Iran," Press Release, United States Attorney's Office for the Southern District of New York, March 14, 2018.
[5] Brendan Pierson, "U.S.-Iranian man gets 25 years prison for trying to buy missiles for Iran," Reuters, March 14, 2018.
Related Library Documents: