Publication Type:
International Enforcement Actions
Mentioned Suspect Entities & Suppliers: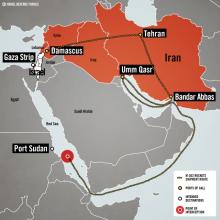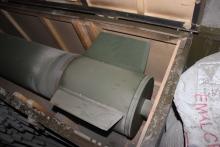 On March 5, 2014, the Israeli Navy intercepted a ship in the Red Sea that was transporting Iranian arms to the Gaza Strip. The Panamanian-flagged vessel, known as the Klos-C, was carrying 40 M-302 rockets, 120-mm mortar shells, and hundreds of thousands of 7.62 mm bullets. Israeli authorities stated that the M-302 rockets aboard the ship had originally been flown to Tehran from a factory in Damascus and then transported overland to the Iranian port of Bandar Abbas. Israel claims that the ship then stopped in Iraq, where the weapons were hidden among bags of cement. Israeli officials believe the vessel was heading for Port Sudan on the Red Sea, where Iran's Quds Force planned to smuggle the rockets to Palestinian militant groups in Gaza. Israeli intelligence minister Yuval Steinitz stated that the intercepted rockets were "Syrian-assembled with Iranian ingredients and technology." Israeli Prime Minister Benjamin Netanyahu said the shipment had been organized by Iran.
A U.S. State Department spokesperson said that the United States had been monitoring the vessel and that Washington was prepared to take "unilateral steps" to stop the shipment if Israel did not.
The Klos-C's multinational crew of 17 and its Turkish captain were taken into Israeli custody, and the ship was taken to the Israeli port of Eilat.
Footnotes:
[1] Yaakov Lappin, "Final Inventory on Board: 40 Rockets, 180 Mortar Shells and 400,000 Bullets," The Jerusalem Post, March 10, 2014.
[2] Ruth Eglash, "Israel: Weapons Were Bound for Gaza," The Washington Post, March 6, 2014.
[3] Yaakov Lappin, "Navy Intercepts Iranian Shipment of Rockets to Gaza. Ya'alon: Tehran is No. 1 Exporter of Terror; US Had Prepared 'Unilateral Steps' to Halt Cargo Ship," The Jerusalem Post, March 6, 2014.
[4] Batsheva Sobelman, "Israel Intercepts Rockets; Commandos Board a Ship Carrying Syrian Weapons from Iran, the Military Says," Los Angeles Times, March 6, 2014.
[5] Ian Black, "Israeli Forces Seize Rockets 'Destined for Gaza' in Raid on Iranian Ship in Red Sea," The Guardian, March 5, 2014.
[6] Daily Press Briefing by State Department Spokesperson Jen Psaki, March 5, 2014.
[7] "IDF Intercepts Iranian Shipment of Missiles to Terrorist Organizations in Gaza," Press Release, Israel Defense Forces, March 5, 2014.