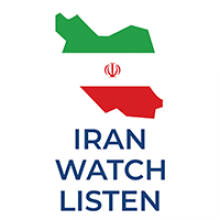 In the inaugural episode of Iran Watch's podcast—Iran Watch Listen—we discuss deceptive shipping practices used by Iran to evade U.S. sanctions, and U.S. efforts to counter these practices, with two experts from the U.S. State Department: Blake Pritchett, the Deputy Director of the Office of Economic Sanctions Policy, and Jen Chalmers, Chief of the Disruption Operations and Transport Team. The discussion took place on July 24 and was hosted by Valerie Lincy, Executive Director of the Wisconsin Project on Nuclear Arms Control, and Austin Bodetti, a Research Associate at the Project. Read more about our guests below.
Background
On May 14, the U.S. Departments of State and the Treasury, along with the U.S. Coast Guard, issued a Maritime Advisory listing techniques that Iranian merchant vessels use to evade economic sanctions. The United States followed this measure on June 8, when additional sanctions on Islamic Republic of Iran Shipping Lines (or IRISL) and its Chinese-based subsidiary went into effect; both companies employ many of the tactics outlined in the Advisory. On the same day, the U.S. imposed secondary sanctions on more than 100 vessels owned by or otherwise linked to IRISL.
Iran continues to sell oil and petroleum products despite U.S. sanctions. The United States and other countries have also caught Iran sending weapons to the Houthis in Yemen, demonstrating the need to counter illicit Iranian shipping and sanctions evasion.
Our Discussion
The Advisory provides industry actors, in particular those operating in or near high-risk jurisdictions, with specific business practices that, if implemented, would help them identify and disrupt illicit Iranian transfers. In the podcast, we discuss the deceptive shipping practices used by Iran, recent outreach by the U.S. government to the industry actors about these practices, and relevant industries' response. We also highlight how Iran uses the techniques outlined in the Advisory to move goods that range from arms to oil.
Blake Pritchett is the Deputy Director of the Department of State's Office of Economic Sanctions Policy and Implementation in the Bureau of Economic and Business Affairs. His office maintains and enforces sanctions to maximize their economic impact on the targets and minimize the damage to U.S. economic interests. Blake manages the office's licensing and policy work.
Jen Chalmers is the Team Chief for Disruption Operations and Transport in the Office of Counterproliferation Initiatives in the U.S. Department of State's Bureau of International Security and Nonproliferation (ISN). Her office works to develop and implement appropriate diplomatic, defense, law enforcement, and rapid response options to combat the proliferation of weapons of mass destruction. Jen focuses on counterproliferation policies related to disrupting illicit maritime trade.
Related Resources
Subscribe to Iran Watch Listen on Apple Podcasts, Spotify, Stitcher, Google Podcasts, or wherever you get your podcasts.