In the second episode of Iran Watch Listen, we speak with John Smith, the former Director of the U.S. Treasury Department's Office of Foreign Assets Control (OFAC), about the impact of the Trump administration's Iran sanctions campaign and how Iran policy might change with the incoming Biden administration. The discussion took place on November 13 and was hosted by Valerie Lincy, Executive Director of the Wisconsin Project on Nuclear Arms Control, and Austin Bodetti, a Research Associate at the Project. Read more about our guest below.
Background
OFAC administers and enforces U.S. economic and trade sanctions programs. Foreign individuals, companies, and groups that pose a threat to U.S. national security, foreign policy, and economic goals may be sanctioned for laundering money, drug trafficking, terrorist activities, human rights abuses, and contributing to the proliferation of weapons of mass destruction. The Treasury Department, and in particular OFAC, have increasingly been called on by successive administrations and by Congress to wage economic war with respect to national security and foreign policy threats to the United States.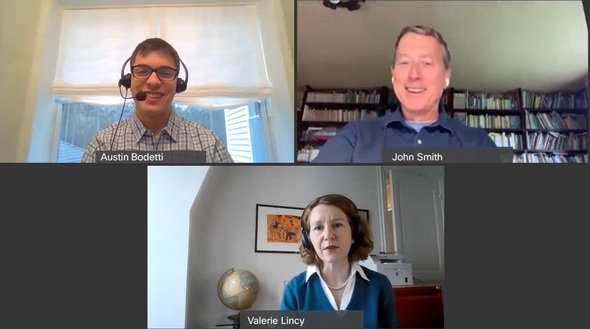 Our Discussion
We hear from John about the key role OFAC has played in U.S. efforts to counter the multiple threats Iran poses: more than a decade ago through sanctions on Iran's shipping, energy, and banking sectors; in 2015 and 2016 when some of these sanctions were relaxed as part of the Joint Comprehensive Plan of Action (JCPOA), the nuclear deal with Iran; and more recently, as part of the Trump administration's sanction-based "maximum pressure" campaign against Iran.
Since the United States withdrew from the nuclear deal with Iran in 2018, OFAC has imposed sanctions on Iran's nuclear program, arms sales, petroleum exports, metals industry, and a number of other sectors. Just last month, OFAC strengthened sanctions against Iran's financial sector – part of a flood of new sanctions planned by the Trump administration before Joe Biden's inauguration. John puts the latest actions into context, explaining the difference between sectoral sanctions and targeted designations using terrorism or proliferation authorities. He argues that while the outgoing administration's pressure campaign has unquestionably crippled Iran's economy, it has failed to rally most of the world behind U.S. policy or to compel Iran to strike a new deal, which looks as elusive as ever.
It can take months for the United States to impose or remove sanctions on a particular entity, because of the evidentiary requirements for such actions. We discuss how the Trump administration's multilayered sanctions on Iran will complicate any effort by the Biden administration to offer Iran economic relief as part of negotiations or a new agreement. We also touch on the role that diplomacy has played in U.S. sanctions policy regarding Iran.
John E. Smith, former Director of OFAC, is a partner at Morrison and Foerster, where he co-heads the firm's national security practice. At OFAC, John was centrally involved in all aspects of developing, implementing, and enforcing U.S. government sanctions requirements. As OFAC Director, he oversaw every OFAC enforcement case against financial institutions and global operating companies. John has also served in the U.S. Justice Department and on a terrorism sanctions committee at the United Nations.
Related Resources
Subscribe to Iran Watch Listen on Apple Podcasts, Spotify, Stitcher, Google Podcasts, or wherever you get your podcasts.