This month's newsletter features a timetable on the weapon potential of Iran's gas centrifuges and its growing stockpile of enriched uranium. The report estimates how soon Iran could produce the fuel for a small nuclear arsenal and concludes that the main nuclear weapon risk in Iran is work at secret sites.
The newsletter also includes documents describing the launch of an Iranian military satellite by the Islamic Revolutionary Guard Corps (IRGC) and heightened U.S.-Iran tensions in the Persian Gulf, profiles of Iranian scientists involved in past nuclear weapon work, and news about U.S. efforts to extend a U.N. arms embargo on Iran.
Subscribe here to receive the newsletter in your inbox.
Iran Watch Publications
 
Iran's Nuclear Timetable: The Weapon Potential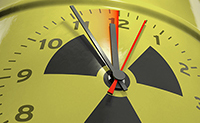 A new report estimates how soon Iran could produce the fuel for a small nuclear arsenal of five implosion-type warheads – the goal Iran set for itself when it began to work on nuclear weapons decades ago. The report finds that with its known capacity, Iran cannot make a sudden dash to a nuclear arsenal within a practical length of time. Nor will it be able to do so for a few years. Nor would a dash to a single bomb be practical: Such a bomb would have to be tested; the dash would probably be detected before it could succeed; and would invite retaliation Iran could not deter. Instead, the main nuclear weapon risk in Iran is secret sites, which it has relied on to carry out illicit work in the past. That risk will increase as Iran develops more powerful centrifuges, allowing sites to be smaller and easier to hide. Perfecting such centrifuges is a vital step in the long nuclear game Iran has been playing for decades.
Read the full report here.
View key findings from the report here.
Iran Watch Library:
 
The IRGC Aerospace Force successfully placed Iran's first "military satellite" into orbit on April 22, allegedly using a three-stage mobile launcher powered by both solid and liquid fuel:
Tensions between the United States and Iran rise in the Persian Gulf:
There is growing debate on whether or not to ease sanctions on Iran in light of COVID-19:
Entities of Proliferation Concern
The United States sanctioned a number of nuclear scientists involved in Iran's AMAD Plan, a pre-2004 program to develop nuclear weapons:
Kamran Daneshju
Head of Project 111, a part of the Amad Plan that worked to integrate a possible nuclear weapon into the reentry vehicle of a Shahab-3 missile.
Sayyed Mohammad Mehdi Hadavi
Involved in Project 110, a part of the Amad Plan that reportedly focused on nuclear warhead development.
Ali Mehdipour Omrani
Senior expert for Subproject 3/11, a project simulation group of the Amad Plan responsible for nuclear weapons design.
In the News
Officials: U.S. Seeks Indefinite U.N. Arms Embargo on Iran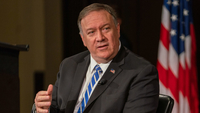 April 28, 2020: The United States is circulating a draft U.N. resolution that would indefinitely extend an arms embargo on Iran beyond its current October 2020 expiration. According to U.S. officials, the resolution will be presented for a vote in May. Russia and China, who have expressed interest in resuming arms sales to Iran, are likely to oppose the resolution. According to the officials, the Trump administration is not currently planning to invoke the "snapback" of U.N. sanctions, despite its assertion that the United States retains this right as an original participant in the Joint Comprehensive Plan of Action (JCPOA). (Image courtesy of the U.S. Department of State.)
Industrial Bank of Korea Settles U.S., New York Criminal Probes over $1 billion Iran Transfer
April 20, 2020: The Seoul-based Industrial Bank of Korea (IBK) will pay $86 million to settle U.S. federal and New York state charges for transferring $1 billion worth of illegal payments to Iran on behalf of former client Kenneth Zong. Zong was indicted for sanctions violations and money laundering in December 2016. IBK accepted responsibility for violating the Bank Secrecy Act by failing to maintain adequate anti-money laundering controls at its New York branch. The settlement includes a $51 million forfeiture, a $35 million civil fine, and requires the bank to improve customer due diligence and management oversight. The bank has signed a two-year deferred prosecution agreement with the Department of Justice and a non-prosecution agreement with New York.
Iran parliament speaker tests positive for COVID-19
April 2, 2020: The speaker of Iran's parliament, Ali Larijani, has tested positive for COVID-19, becoming one of the most senior officials to be infected. Larijani is quarantined and receiving treatment for the illness. Of the 290 representatives in Iran's parliament, 23 have tested positive for COVID-19, while 12 current or former government officials have died of COVID-19.