This month's newsletter features a policy brief on the consequences of triggering the snapback mechanism of U.N. Security Council resolution 2231. Though it would not halt Iran's nuclear advances, triggering snapback would allow Europe and the United States to make use of the expanded measures provided for in previous Security Council resolutions to combat the pressing proliferation challenges posed by Iran.
The newsletter also includes profiles of companies sanctioned by the U.S. Commerce Department in 2021 for supplying Iran with U.S.-origin items useful to Iran's military industries, as well as news about a drone attack on an Iranian defense facility, Iran's growing stockpile of highly enriched uranium, a year-end uptick in Iranian oil exports, and a European Parliament vote supporting the listing of the Islamic Revolutionary Guard Corps (IRGC) as a terrorist group. Additions to the Iran Watch library include Western sanctions announcements related to drones and human rights as well as several recent U.S. law enforcement actions.
Sign up to receive the newsletter in your inbox.
____________________
PUBLICATIONS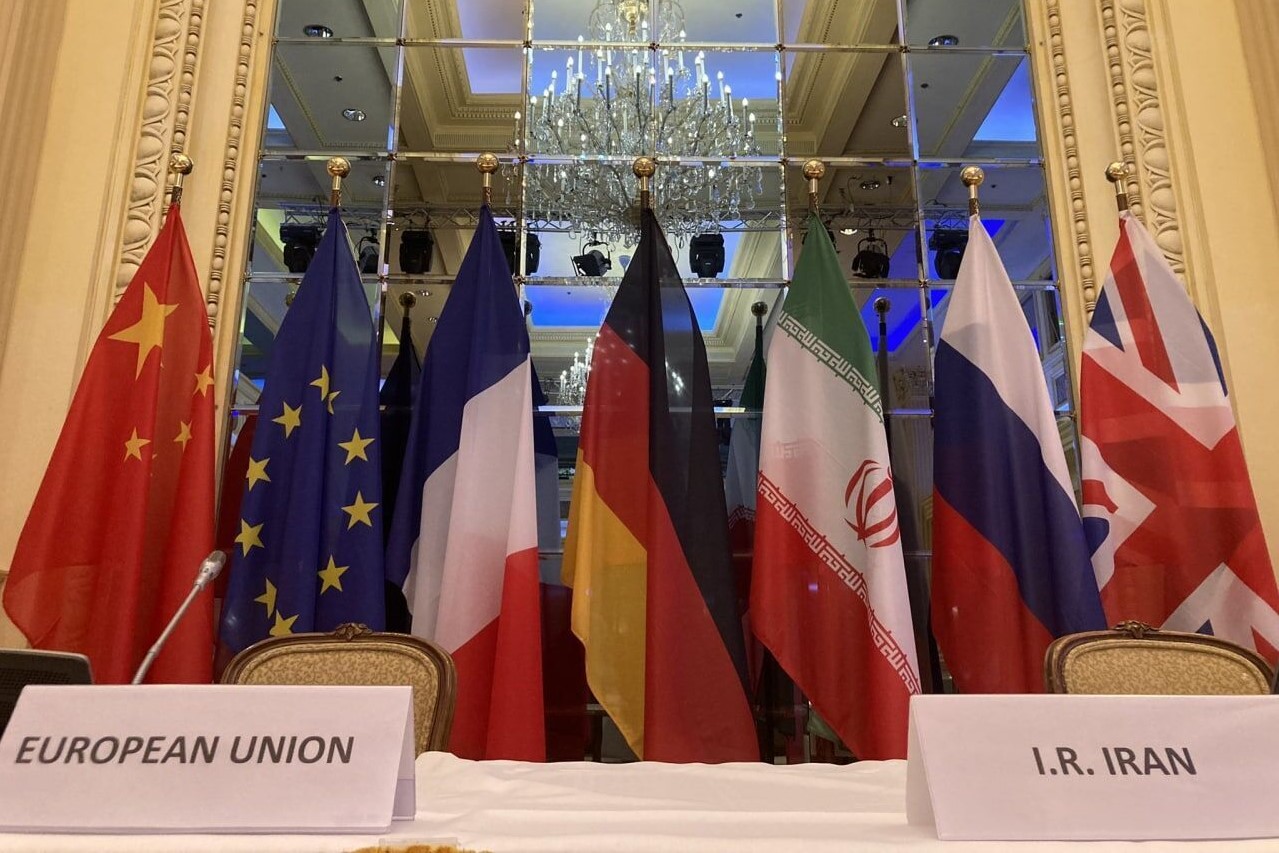 The flags of the JCPOA participant states in Vienna. (Credit: Islamic Republic News Agency)
Policy Brief | Trigger Warning: The Consequences Snapping Back Sanctions on Iran
With negotiations to restore the Joint Comprehensive Plan of Action (JCPOA) stalled and more of its restrictions set to expire, Western parties to the deal will likely face calls in 2023 to trigger the "snapback" mechanism of U.N. Security Council resolution 2231, which underpins the accord. This policy brief examines the direct and indirect consequences of taking such action.
Though it would not halt Iran's nuclear advances, triggering snapback would allow Europe and the United States to make use of the expanded restrictions provided for in previous Security Council resolutions to combat the other pressing proliferation challenges posed by Iran, such as its transfers of drones and other arms to Russia and across the Middle East. Snapback would also align Europe's Iran sanctions policy with that of the United States and provide a sanctions benchmark for other countries. At minimum, Britain, France, and Germany should not allow additional European nonproliferation sanctions on Iran to sunset on schedule in October and should instead reimpose other sanctions that the JCPOA had suspended.
____________________
ENTITIES OF CONCERN
In December 2021, the U.S. Commerce Department added to its Entity List a far-flung network of companies that have supplied Iran with U.S.-origin items in support of its military industries.
A computer, communications, and electronics manufacturer based in China; sells navigation systems and related products, including inertial navigation systems and GPS navigation systems; part of RION Group, which has overseas offices in Germany, South Korea, and the United Kingdom.
An electronic instrument manufacturer based in Hong Kong; serves the oil and gas and mining industries; is developing a surveying machine based on fiber optic gyroscopes and systems for thermal imaging and video surveillance.
A subsea engineering consultancy based in the Republic of Georgia and Hong Kong; provides upgrades to remotely operated underwater vehicles; shares an address with Thundsea Electric Limited.
____________________
IN THE NEWS
 

The damaged roof of a military industry facility in Isfahan. (Credit: Screenshot from an IRIB news broadcast)
Israel Launched Drone Attack on Iranian Facility, Officials Say | New York Times
January 29, 2023: Israel carried out a strike against an Iranian military facility in Isfahan using several small quadcopter drones, according to U.S. officials. The facility's exact purpose was not clear, although Iran said that it was an ammunition manufacturing plant. Iran also claimed that the attack caused little damage.
Iran's Amassed Enough Material for 'Several Nuclear Weapons,' Says IAEA Chief | CNN
January 25, 2023: Rafael Grossi, head of the International Atomic Energy Agency, said that Iran has amassed 70 kilograms of uranium enriched to 60 percent fissile purity and 1,000 kilograms enriched to 20 percent, enough for "several nuclear weapons." Grossi plans to travel to Iran in February.
EU Parliament Calls for More Sanctions Against Iranian Regime | Reuters
January 19, 2023: The European Parliament adopted a nonbinding resolution calling for EU sanctions against all Iranian entities linked to human rights violations, including Supreme Leader Ali Khamenei and President Ebrahim Raisi. Earlier, the parliament passed a similar resolution calling for the designation of the IRGC as a terrorist organization.
Iranian Oil Exports End 2022 at a High, Despite No Nuclear Deal | Reuters
January 15, 2023: Iran's oil exports in averaged 1.137 million barrels per day in December, the highest figure for 2022, according to SVB International, a company that tracks Iran's oil trade. By some estimates, Iranian crude exports have reached their highest level since April 2019. China remains Iran's biggest customer.
____________________
FROM THE LIBRARY
In December and January, Western governments announced more sanctions against Iranian entities for violently suppressing protests.
The U.S. Treasury Department adopted more sanctions targeting Iran's drone industry.
The U.S. government took action to enforce U.S. and international law.