This month's newsletter features a report on a scheme by a network of Indonesian and Iranian companies to ship components for aircraft from the United States to Iran. The analysis describes the involvement of Iran Aircraft Manufacturing Industries Company (IAMI), a firm linked to the Iranian Ministry of Defense and Armed Forces Logistics (MODAFL) and the Islamic Revolutionary Guard Corps (IRGC), and describes past illicit procurement efforts by Iran involving Indonesia.
The newsletter also features documents describing recent actions by the United States imposing additional sanctions on Iran's financial and energy sectors, official statements regarding the end of the U.N. arms embargo on Iran, and reports on the expansion of Iran's uranium enrichment program. Other items in the newsletter include profiles of MODAFL-linked Iranian companies and recent news about construction at an Iranian nuclear facility, an Iranian military exercise, and a German intelligence report about Iran's WMD-related procurement.
Subscribe here to receive the newsletter in your inbox.
Iran Watch Publications:
 
Iranian Military Employs Indonesian Front Companies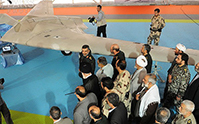 On August 27, 2020, a U.S. grand jury indicted several Indonesian and Iranian businessmen on charges of smuggling parts for aircraft from the United States in violation of U.S. sanctions on Iran. The network avoided U.S. scrutiny by moving the products through Indonesia and Malaysia, before final delivery to Iran. The Indonesians and Iranians were working at the behest of Iran Aircraft Manufacturing Industries Company (IAMI), a subsidiary of the Iranian Ministry of Defense and Armed Forces Logistics (MODAFL) that produces combat drones for the Islamic Revolutionary Guard Corps (IRGC).
Read the full enforcement action here.
Iran Watch Library:
 
U.S. layers additional sanctions on key sectors of Iran's economy:
U.N. arms embargo on Iran expires:
Iran reportedly expands nuclear program:
Entities of Proliferation Concern:
 
Iran Electronics Industries (IEI)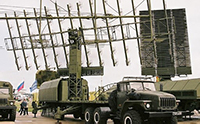 A wholly owned subsidiary of MODAFL and major producer of electronic systems and products in Iran, including components for Iranian weapons systems; identified by the U.S. Department of Justice as an end-user for illicitly procured U.S.-origin goods, including electronic and avionic components.
Information Systems of Iran (ISIRAN)
An information technology company affiliated with MODAFL and IEI; has assisted MODAFL with data processing systems.
Shiraz Electronics Industries (SEI)
Develops, produces, and repairs electronics for the Iranian military, including radar, air navigation systems, and communications intelligence systems; a subsidiary of IEI; owned or controlled by MODAFL.
In the News:
 
Satellite Photos Show Construction at Iran Nuclear Site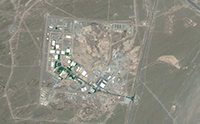 October 28: Iran has begun construction on the grounds of Natanz enrichment facility, according to satellite imagery. The work has taken place since August and includes a new or regraded road to the south of Natanz near a former firing range, the presence of construction equipment, and possible excavation. At the same time, the International Atomic Energy Agency (IAEA) confirmed that Iran is building a new underground facility to assemble advanced centrifuges at Natanz. A similar facility was destroyed in an explosion last summer, in a reported act of sabotage.
Photo courtesy of Maxar Technologies.
"Modafean Aseman Velayat" Military Drill to Kick off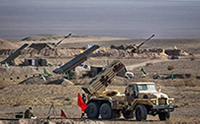 Brigadier General Ghader Rahimzadeh announced Iran's plans to launch the Modafean Aseman Velayat military exercise, which will focus on the country's air defense capabilities. The Iranian Air Force, Air Defense Force, and Islamic Revolutionary Guard Corps (IRGC) Aerospace Force will participate in the exercise. Under operational guidance from Iran's Air Defense Force, the exercise will test the country's defenses against low, medium, and high altitude and long range air threats, using missile systems, radar, reconnaissance information systems, communication systems, and surveillance networks. According to Rahimzadeh, the Iranian Air Force will test "all kinds of interceptor, bomber, and unmanned fighter jets" during the exercise.
Iran Busts Sanctions by Using Other Nations to Get WMD—German Intel
October 2: The intelligence agency for the German state of Hesse reports that Iran, North Korea, Pakistan, and Syria tried to "acquire and distribute" weapons of mass destruction technology using transport routes via "third countries that are not subject to special embargo regulations." According to the report, which covers events in 2019, these countries might have obtained expertise in uranium enrichment and biological and chemical processes by exploiting research and academic cooperation. The report also alleges that China, Iran, and Russia might have conducted cyber operations targeting financial institutions in the city of Frankfurt. According to the report, Iran's Ministry of Intelligence and an intelligence service run by the Islamic Revolutionary Guard Corps (IRGC) remain active in Germany.