This month's newsletter features a policy brief on how the United States could construct an effective arms embargo on Iran despite the expiry of U.N. restrictions on Iranian arms imports and exports, through a combination of unilateral sanctions, multilateral measures, and joint action with partners. The newsletter also features analysis of an alleged scheme to collect donations in the United States on behalf of Iran's supreme leader.
Other items featured in the newsletter include documents related to U.S. actions against Iranian hackers and new U.S. sanctions restricting Iran's nuclear program, its development of ballistic missiles, and its access to conventional weapons. The newsletter also highlights profiles of three key units of the Islamic Revolutionary Guard Corps (IRGC) responsible for Iran's research on and deployment of ballistic missiles as well as news about Iran's efforts to acquire drone engines from Germany, Iran's efforts to expand its uranium enrichment program, and more.
Subscribe here to receive the newsletter in your inbox.
Iran Watch Publications:
Preserving an Arms Embargo on Iran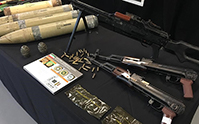 Last week, the United States announced a range of new sanctions on Iran's military-industrial complex, including severe financial penalties against anyone helping Iran import or export conventional weapons. The move follows a failed bid by the United States to extend an arms embargo on Iran at the United Nations. It signals the U.S. determination to block Iranian access to arms without the support of the United Nations, including with a new executive order and other national sanctions authorities. This policy would be more effective, however, if coupled with an emphasis on cooperation with foreign partners and the enforcement of other U.N. resolutions. 
Read the full policy brief here.
A Plot to Acquire Hard Currency for Iran's Supreme Leader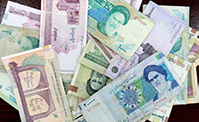 On August 19, U.S. authorities unsealed a complaint charging Ali Chawla, Asim Mujtaba Naqvi, and Muzzamil Husnain Zaidi with violating the International Emergency Economic Powers Act. The three are accused of orchestrating a campaign to collect donations in the United States on behalf of Iranian Supreme Leader Ali Khamenei, and Zaidi faces the additional charge of operating as an unregistered agent of Iran in the United States. According to U.S. authorities, the three also have ties to the Islamic Revolutionary Guard Corps.
Read the full enforcement action here.
Iran Watch Library:
IAEA Board of Governors convenes in Vienna:
U.S. targets Iranian hackers: 
U.S. uses domestic sanctions authorities to support the claimed "snapback" of U.N. sanctions:
Entities of Proliferation Concern:
Islamic Revolutionary Guard Corps (IRGC) Aerospace Force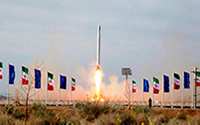 Develops and operates Iran's inventory of ballistic missiles through the IRGC Aerospace Force Self-Sufficiency Jihad Organization and the IRGC Aerospace Force al-Ghadir Missile Command; responsible for air defense in tandem with Iran's regular military; serves as the primary operator of Iran's fleet of unmanned aerial vehicles (UAVs) and oversees the IRGC's space program.
Islamic Revolutionary Guard Corps (IRGC) Research and Self-Sufficiency Jihad Organization
Responsible for ballistic missile research and development; has supported the IRGC's efforts to improve the ballistic missile capabilities of Houthi rebels in Yemen.
Islamic Revolutionary Guard Corps (IRGC) Aerospace Force Self-Sufficiency Jihad Organization
Involved in Iran's ballistic missile research and flight test launches; designated by the U.S. Department of State on July 18, 2017, pursuant to Executive Order 13382, which targets proliferators of weapons of mass destruction (WMD) and their delivery systems.
In the News:
Germany Stops Iran Buying Mini-Engines After They Were Found in Houthi Drones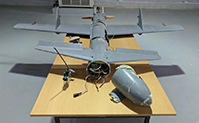 September 24: According to intelligence reports, Iran is procuring advanced engine technology used in drones from Chinese manufacturers. The technology is smuggled from Xiamen, in China, to Mombasa, Kenya, then sent to Salalah, Oman, from where the technology is sent on to Houthi strongholds in Yemen. This procurement pattern is a shift from previous efforts by Iran to obtain miniature engines from small German manufacturers, including the successful procurement of 42 twin-cylinder propeller motors in 2015 that were routed through Athens to Tehran. Such engines were found in drones used by the Houthis in attacks on Saudi Arabia. Their sale to Iran was subsequently banned by the German government. Iran has used a range of Dutch and German engines in its drones to boost domestic production.
U.K. Man Pleads Guilty to Smuggling Equipment to Iran after Arrest at Pensacola Airport
September 1: British national Colin Fisher pleaded guilty in a U.S. District Court in Florida to attempting to smuggle U.S. power-generating equipment to Iran and violating the International Emergency Economic Powers Act (IEEPA). Between October 2017 and August 2020, he attempted to export a Solar Mars 90 S turbine core engine, valued at $500,000, and other U.S.-made equipment to an end user in Iran. Fisher was arrested upon arrival at Pensacola International Airport returning from a trip to the United Arab Emirates, where he had arranged the purchase. He faces up to 30 years in prison. Fisher's partner in the scheme, James Meharg, chief executive and president of Turbine Resources International LLC, was convicted earlier and is currently serving a 40-month sentence in federal prison.
Iran Building New Centrifuge Production Site, State TV Says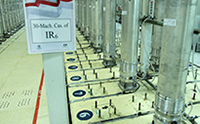 September 8: Ali Akbar Salehi, head of the Atomic Energy Organization of Iran (AEOI), announced that Iran had begun construction of a new building for centrifuge production in the mountains near the Natanz nuclear complex, Iran's primary uranium enrichment facility. Salehi described the new building as "more modern, wider, and more comprehensive" than Natanz. The development of the new site follows a July 2 explosion at Natanz, which damaged an advanced centrifuge development and assembly plant. An Iranian news agency has linked the explosion to Ershad Karimi, a contractor at Natanz. Karimi owns a company called Mehr that supplies precision measuring equipment.