Rumor has it that the notorious proliferator Karl Lee may be in prison, but the facts show that his network is still active.
Publication Type:
International Enforcement Actions
From 2006 until at least 2014, Li Fang Wei (Karl Lee) was a major supplier of critical components to Iran's missile program. Although he has garnered less attention in recent years, a new indictment by the U.S. Department of Justice, a documentary film released in Europe, and other open-source evidence reveal new insights into the current status of his network—including the possibility that it continues to operate without Lee's active involvement.
The Indictment
In May 2023, the U.S. Department of Justice unsealed an indictment accusing Chinese national Xiangjiang Qiao of supplying Iran's missile program. The indictment charges Qiao, an associate of Karl Lee who also goes by the alias Joe Hansen, with nine counts related to sanctions evasion, money laundering, and bank fraud.
Qiao is allegedly an employee of Sinotech Dalian Carbon and Graphite Manufacturing Corporation (Sinotech Dalian), one of Lee's front companies. The indictment states that for more than three years—from at least March 2019 until September 2022—Qiao was involved in a scheme to use Sinotech Dalian to supply Iran with isostatic graphite.
Isostatic graphite is a dense, fine-grained graphite whose production requires a special type of machinery called a cold isostatic press. According to one Western producer, isostatic graphites have exceptionally high thermal and chemical resistance, making them excellent materials for solid rocket motor nozzles and missile re-entry vehicle nose tips. Given these applications, certain graphites and isostatic presses are controlled under Category II of the Missile Technology Control Regime (MTCR).
Sinotech Dalian is a key company in Lee's network, and it has been under U.S. sanctions since 2014 for supplying Iran's ballistic missile program. As its full name suggests, the company specializes in the production of carbon and graphite products, which it manufactures at an 80,000-square-meter facility located on the outskirts of Dalian, China. According to its website, the company offers isostatic graphite with densities and granularities exceeding the MTCR control thresholds.


Left, a photo of the Sinotech Dalian factory from an archived version of the company's website, dated 2013. Right, a satellite photo of the facility available on Google Earth, dated 2021.
Qiao's indictment provides few details about the scheme. For example, it hints at—but does not name—other individuals who were co-conspirators. It does, however, reveal the existence of another China-based company in the network that had not previously been identified in open sources: Lexing International Trade Co., Ltd. (Lexing). Qiao allegedly used the U.S. financial system to conduct two wire transfers (one in 2020 and another in 2021) of several thousand dollars each in association with the isostatic graphite sale, and both payments were routed to Lexing accounts in China.
Where is Karl Lee?
While the indictment contains no updates about Karl Lee himself, a documentary film released in the spring of 2023 presents evidence that Lee has been incarcerated in China.
Lee is an infamous figure who, from 2006 to at least 2014, used a vast web of companies including LIMMT Economic and Trade Company to supply Iran's ballistic missile program with components and materials such as gyroscopes, accelerometers, graphite cylinders, ultra-high strength steel, and high-grade aluminum alloy. He allegedly did business with subsidiaries of Iran's Aerospace Industries Organization and Defense Industries Organization that were sanctioned by the United Nations.
A network map showing the connections between Qiao, Sinotech Dalian, and the Iranian defense industry. Many of Karl Lee's companies are omitted for simplicity. (Credit: Wisconsin Project)
Lee was first sanctioned by the United States on April 7, 2009, the same day he was indicted by the District Attorney's Office of New York County on 118 counts for misusing New York-based banks in his scheme to illicitly supply Iran's nuclear and missile programs. He was indicted on federal charges five years later, on April 28, 2014. His activities were deemed so harmful to U.S. national security that the State Department issued a 5 million dollar reward for information leading to his arrest or conviction.
Since then, Lee's status has been unclear. But a documentary film titled The World's Most Dangerous Arms Dealer, released in Germany in May 2023, presents circumstantial evidence that Lee may have been arrested in 2019 and is now in prison. In the film, undercover journalists contact Lee's older brother, who says that he could not reach Lee at that time. The journalists then visit an address in Dalian associated with Lee, where a neighbor tells them he was thrown in jail. The film asserts that the Chinese-language Wikipedia page for Lee was updated to reflect his arrest and subsequent incarceration, but the edit was mysteriously retracted some 30 minutes later. And the film notes that U.S. officials who had previously been vocal about Lee and his network suddenly went silent around the time of his purported arrest.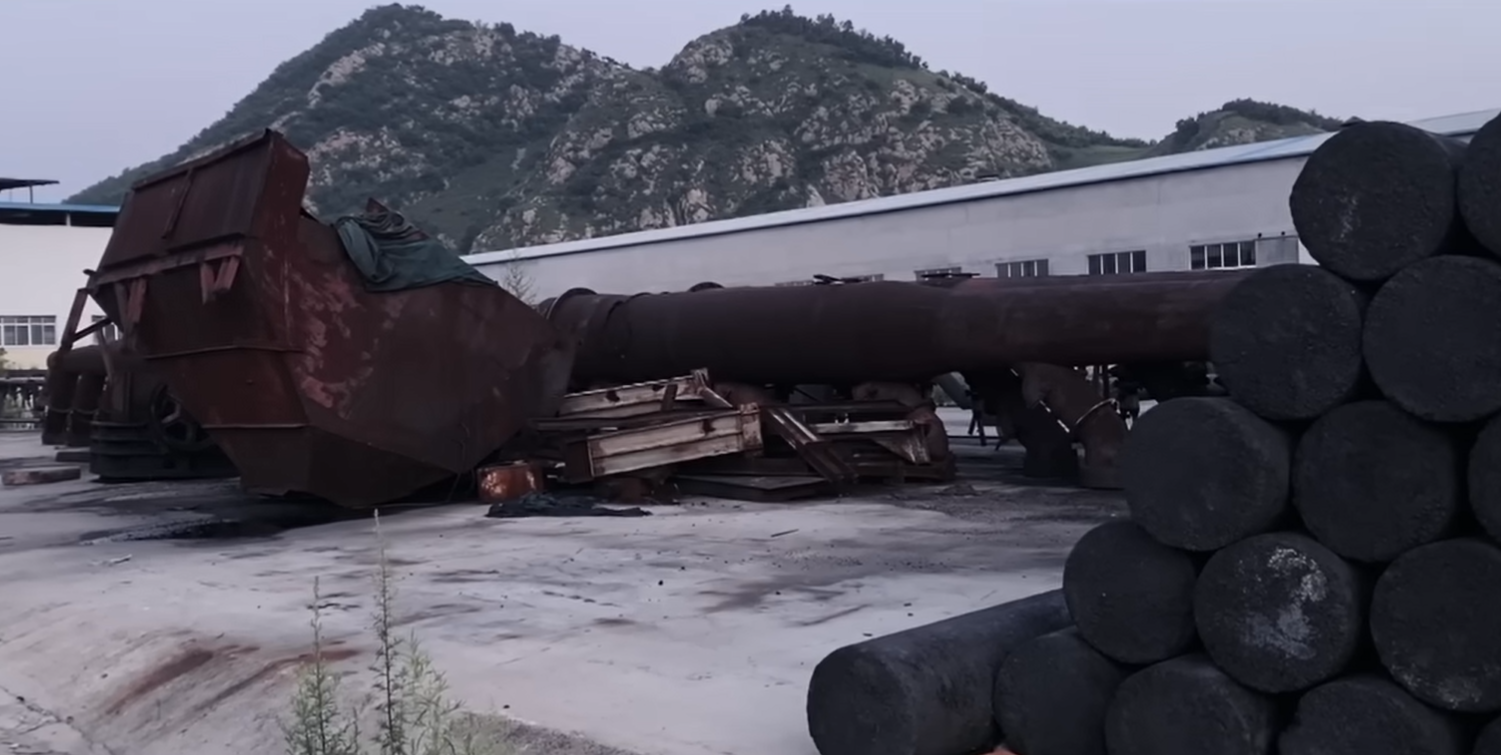 The Sinotech Dalian factory as captured in the documentary film, The World's Most Dangerous Arms Dealer, filmed around August 2021 and released in 2023. (Credit: Deutsche Welle, via YouTube)
The Network Carries On
The filmmakers also visited the Sinotech Dalian factory in August 2021, at which time it appeared to be inoperative. In the film, the crew easily enters the facility through an open gate and finds no one else present. Once inside, they capture footage of rusted machinery, weathered graphite rods, and overgrown vegetation.
But the balance of evidence suggests the factory was and is still active. First, Chinese corporate records show that the company is still legally active as of 2023 and that it employs at least eight individuals. Second, a satellite image dated October 2021 indicates the presence of a truck next to the facility's raw material warehouse, possibly offloading product. Finally, Li Fangdong, Karl Lee's younger brother who owns a 76% stake Sinotech Dalian and serves as managing director there, allegedly told journalists working on the documentary that the factory was still up and running.
The timeline laid out in the Qiao indictment, too, bolsters the case that Sinotech Dalian—and by extension Lee's network—remains active. The scheme to supply isostatic graphite to Iran allegedly continued through September 2022. In addition, Qiao and his unnamed co-conspirators are apparently still at large.
Footnotes:
"Chinese National Charged For Conspiring To Provide Materials For The Production Of Ballistic Missiles To Iran In Violation Of U.S. Sanctions," United States Attorney's Office, Southern District of New York, May 16, 2023, available at https://www.justice.gov/usao-sdny/pr/chinese-national-charged-conspiring-provide-materials-production-ballistic-missiles.
Home Page, TST (Dalian) Carbon Co., Ltd. World Wide Web site, available at http://tstcarbon.com/index.php.
"Missile Technology Control Regime (MTCR) Annex Handbook 2017," Missile Technology Control Regime, 2017, available at https://mtcr.info/wordpress/wp-content/uploads/2017/10/MTCR-Handbook-2017-INDEXED-FINAL-Digital.pdf.
"The World's Most Dangerous Arms Dealer," DW Documentary, June 29, 2023, available at https://www.youtube.com/watch?v=gqDCrdZVZnk.
"United States of America v. Xiangjiang Qiao, a/k/a 'Joe Hansen'," United States District Court, Southern District of New York, (no date), pp. 1-15, available at https://www.justice.gov/d9/2023-05/u.s._v._qiao_indictment.pdf.