Publication Type:
International Enforcement Actions
Mentioned Suspect Entities & Suppliers: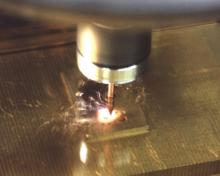 In November 2012, Spanish Customs raided the headquarters of ONA Electroerosion S.A. because of concerns that the Spanish machine tool manufacturer had smuggled nuclear-useable items to Iran, in violation of international sanctions. Spanish authorities initiated an investigation of the transfers in January 2013, and have reported the case to the U.N. Panel of Experts on Iran.
In April 2010, ONA Electroerosion exported to Iran seven electrical discharge machine tools in three separate shipments. The machines were first sent to a front company in Turkey, which was set up by the Iranian importer in order to facilitate the transaction. Mapna Turbine Blade Manufacturing Engineering Co. was identified as the end-user of the tools. This company is sanctioned by Canada and listed as an entity of concern by Japan and the United Kingdom for its ties to Iran's nuclear and ballistic missile programs.
According to the U.N. Panel of Experts, the electrical discharge machines sent to Iran had only a single rotating axis and are not included on nuclear control lists, which restrict sales of such machines with two or more contouring rotary axes. However, software can be installed to upgrade the machines transferred to Iran that would bring them above the control level. The U.N. Panel noted that procuring dual-use items below control thresholds, and upgrading them, is a method used by Iran to get around sanctions.
The operation by Spanish authorities, code-named 'Kakum,' was launched following a 2009 attempt by ONA to export the same machines directly to Iran. The export license for this sale was refused by Spanish authorities because of concern that the equipment could be used in Iran's nuclear program. Those responsible for the transfers could face prison sentences and fines of up to six times the value of the exported machines. The machines are valued at $1,200,000.
Footnotes:
1. U.N. Security Council Final Report of the Panel of Experts Established Pursuant to Resolution 1929 (2010), S/2014/394, June 11, 2014.
2. "Special Economic Measures (Iran) Regulations," SOR/2010-165, Privy Council Office, Ministry of Justice, May 1, 2014.
3. End User List, April 1, 2014, Japan's Ministry of Economy, Trade and Industry (METI).
4. "Iran List (last amended 23 October 2013)," Export Control Organisation, United Kingdom's Department for Business Innovation and Skills.
5. David Roman and Ilan Brat, "Spain Raids Company Over Suspected Iran Exports," The Wall Street Journal, November 26, 2012.
6. "Spanish Tax Office Dismantles Plot to Smuggle Machinery Designed for Iran's Nuclear Programme," La Mancloa, November 26, 2012.