This month's newsletter features an international enforcement action detailing Iranian efforts to procure counter-drone technologies from the United States. Court documents and business records show that even though the attempted exports were thwarted, the network's ringleader still works with Iranian defense contractors and a China-based company today.
The newsletter also features profiles of an Iranian university and two China-based chemical suppliers with ties to Iran's missile and nuclear programs. Documents from the Iran Watch library include statements related to the UN-brokered ceasefire in Yemen, annual reports by the U.S. State Department on arms control treaty compliance by Iran and countries worldwide, and activity in the U.S. Congress related to a possible JCPOA revival, as well as news about the International Atomic Energy Agency (IAEA)'s monitoring efforts in Iran, Iran-facilitated arms transfers to Russia, and Islamic Revolutionary Guard Corps (IRGC) troop movements in Syria.
Subscribe
here
to receive the newsletter in your inbox. 
____________________
PUBLICATIONS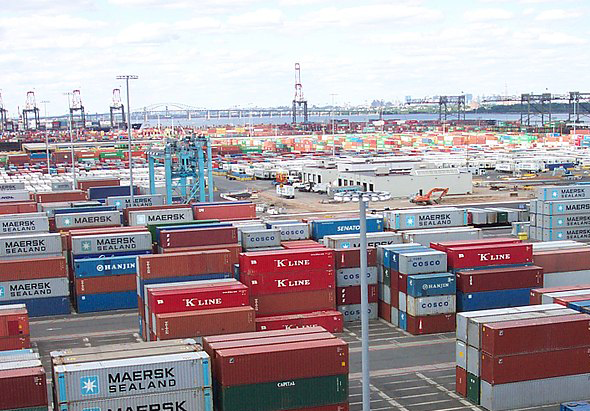 Image source: Wikimedia Commons
Enforcement Action | Drones and Directed Energy at Center of Procurement Network
In 2017 and 2018, a ring of procurement agents in Canada, Iran, the United Arab Emirates, and the United Kingdom, attempted to acquire dual-use systems on behalf of Iranian military aerospace company Rayan Roshd Afzar. They purchased an industrial microwave system that was impounded by U.S. Customs and Border Patrol at the Port of Newark and placed bids for counter-drone systems totaling almost $1 million. Recently-released court documents identify the conspirators who were anonymously described in a 2018 indictment and shed light on how the scheme was interrupted. Still, the core of the network appears to remain intact.
Read the enforcement action here.
____________________
ENTITIES OF CONCERN
 
Iran's universities carry out research relevant to Iran's nuclear and missile programs and employ faculty who support those programs. The universities often acquire supplies for this research from companies abroad.
Islamic Azad University
An Iranian university system whose faculty members have collaborated with Iranian government agencies to carry out research relevant to Iran's nuclear and missile programs; President is Mehdi Tehranchi, a nuclear scientist who served as a project supervisor in the Amad Plan, the pre-2004 Iranian program to develop nuclear weapons.
 
Zibo Elim Trade Company, Ltd.
A China-based exporter of chemicals and related equipment; has supplied HTPB, which is controlled under the Missile Technology Control Regime (MTCR) for its potential use in solid propellants for missiles, for studies conducted by Islamic Azad University and U.N.-sanctioned Malek Ashtar University of Technology.
Chengdu Best New Materials Co. Ltd.
A China-based manufacturer and exporter of metal powder and cemented carbide; has transferred sensitive technology and items to Iran's missile program, according to the U.S. Department of State.
 
____________________
IN THE NEWS
 
UN Watchdog Installs New Cameras At Iran Centrifuge Workshop | Associated Press
April 14, 2022: The International Atomic Energy Agency (IAEA) installed monitoring equipment at Iran's new underground centrifuge component manufacturing plant in Natanz. It also unsealed equipment at the plant. Iranian officials said that production would begin immediately but did not reveal the exact location of the new operation within the large Natanz facility. They also reaffirmed that Iran will withhold the monitoring equipment's data until a deal over the Joint Comprehensive Plan of Action (JCPOA) is reached.
Russia "Using Weapons Smuggled By Iran From Iraq Against Ukraine" | The Guardian
April 11, 2022: Iraqi militias are working with Iran to send weapons to Russia for use against Ukraine, according to unnamed militia and regional intelligence sources. Hashd al-Shaabi, one of the most influential Iran-backed militias, reportedly transported rocket-propelled grenades, antitank guided missiles, and multiple-launch rocket systems to the Iranian border in late March. The Iranian military then sent the shipment across Iran and via the Caspian Sea to the Russian port of Astrakhan. According to sources involved in the transportation scheme, Iran has also returned an S-300 air defense system to Russia and donated an Iranian-made Bavar-373 air defense system.
 
Iranian Militias Deployed In Central Syria After Russia's Withdrawal | Asharq Al-Awsat
April 5, 2022: The Islamic Revolutionary Guard Corps (IRGC) and its allies have replaced Russian forces that withdrew from the second-largest arms and ammunition depot in Syria, located east of the city of Homs. Lebanese Hizballah and the Syrian Army's Fourth Division, led by Syrian President Bashar al-Assad's brother Maher, deployed to the Mahin depot alongside the IRGC. Approximately 40 military vehicles were seen moving into the area.
____________________
FROM THE LIBRARY
 
UN mediators announced a comprehensive ceasefire between the Iran-backed Houthis and the Saudi-led coalition in the Yemen war, while the U.S. 5th Fleet revealed plans for a new task force for the Red Sea.
Iranian Foreign Minister Hossein Amirabdollahian said during a phone call with UN Secretary General António Guterres that while Iran endorsed the ceasefire, its failure to consider "Saudi attacks on Yemen" was "unconstructive" - April 3
UN Special Envoy for Yemen Hans Grundberg said the two-month truce would allow fuel ships to transit Hodeidah port and flights to resume from Sana'a airport - April 1
Guterres revealed the parties had also agreed to discuss reopening roads in Taiz - April 1
 
The State Department released annual arms control compliance reports related to biological, chemical, and nuclear weapons. The Treasury Department also designated a network procuring items related to ballistic missile propellant.
The State Department concludes that "serious concerns remain" about Iran's undisclosed nuclear sites even after Iran agreed to provide the IAEA with answers, and notes that Iran has engaged in dual-use activities with potential biological weapon applications - April 19
The chemical weapons report finds Iran in noncompliance with the Chemical Weapons Convention and raises concerns that it is exploring offensive chemical weapons - April 19
After the Iranian missile strike on Iraqi Kurdistan, the Treasury Department sanctioned five entities supplying Iran's ballistic missile program - March 30
 
Members of Congress weighed in on nuclear negotiations with Iran.
Senator Joe Manchin (D-WV) wrote a letter urging the Biden administration to maintain the Foreign Terrorist Organization (FTO) designation on the IRGC and keep other sanctions in effect - April 19 
Thirteen Republican senators also wrote a letter to the administration in defense of the FTO designation - April 11