This month's newsletter features updates to a table tracking Iran's centrifuges and a report estimating Iran's ability to make a dash to produce fuel for a small nuclear arsenal. The centrifuge table sets out the capacity and primary materials of each of Iran's currently-deployed centrifuge models as well as the number of each model installed and/or enriching uranium. Both updates are based on the latest International Atomic Energy Agency (IAEA) reports released earlier this month.
The newsletter also features profiles of two entities that contributed to Iran's nuclear advances in the past year, as well as a new Atomic Energy Organization of Iran (AEOI) research center. Documents from the Iran Watch library include the latest IAEA reports on Iran's nuclear program, statements about negotiations to revive the Joint Comprehensive Plan of Action (JCPOA), activity in the U.S. Congress related to a possible JCPOA revival, and several risk assessments released by the U.S. Treasury Department, as well as news about a satellite launch and an Iranian ballistic missile strike in Iraq.
Subscribe
here
to receive the newsletter in your inbox. 
____________________
PUBLICATIONS
 
Table | Iran's Centrifuges: Models and Status
Iran possesses thousands of gas centrifuges that are the mainstay of its nuclear program. Gas centrifuges spin uranium hexafluoride (UF6) to separate uranium isotopes suitable for nuclear fuel, a process known as enrichment. The number and capacity of these machines determine Iran's "breakout" time: how long it would take Iran—if it decided to do so—to produce the fuel for a small nuclear arsenal. The machines are also key to Iran's ability to "sneakout" by producing nuclear weapon fuel at secret sites.
This table sets out the capacity and primary materials of each of Iran's currently-deployed centrifuge models. Using data from the latest IAEA reports, it also describes the quantity and types of centrifuges installed and/or enriching uranium at Iran's three declared enrichment sites: the Fuel Enrichment Plant (FEP) and Pilot Fuel Enrichment Plant (PFEP) at Natanz and the Fordow Fuel Enrichment Plant (FFEP).
See the table here.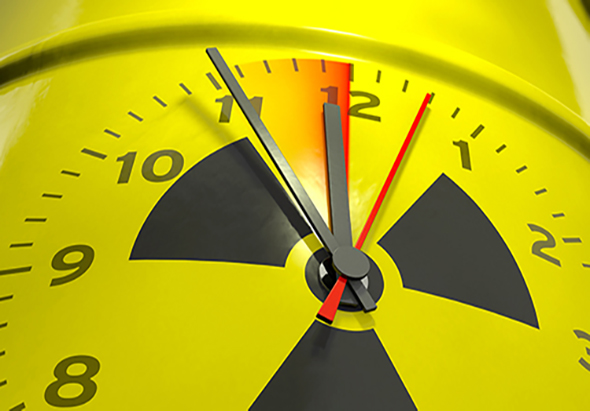 Image source: Shutterstock
Report Update | Iran's Nuclear Timetable: The Weapon Potential
Iran's nuclear program has reached the point at which, within a few months, Iran could enrich enough uranium for five fission weapons using its known capacity. For that uranium to pose a nuclear weapon threat, however, it would have to be processed further, and the other components of a successful weapon would have to be ready to receive the processed uranium. These additional steps, together with the several months for enrichment, mean that Iran cannot yet make a dash to a small nuclear arsenal within a practical length of time. Instead, the main nuclear weapon risk comes from secret sites. That risk will increase as Iran expands its use of more powerful centrifuges, allowing sites to be smaller and easier to hide. Perfecting such centrifuges is a vital step in the long nuclear game Iran has been playing for decades.
Read the updated report here.
____________________
ENTITIES OF CONCERN
 
In 2021, Iran made advances in manufacturing advanced centrifuges and producing uranium metal, a necessary component of a nuclear weapon. It also refused to replace damaged IAEA monitoring cameras at a centrifuge component production plant for several months.
Iran Centrifuge Technology Company (TESA)
Involved in Iran's ballistic missile research and flight tests; part of the IRGC Aerospace Force. According to Iranian state media, developed and produced the Ghadir (Qadir) radar system, which was reportedly used during the February 2017 "Defenders of the Velayat Skies" military drill, an exercise involving several missile systems.
 
Fuel Plate Fabrication Plant (FPFP)
A facility used by Iran to convert uranium and produce fuel plates for the Tehran Research Reactor (TRR); has produced uranium metal in violation of the JCPOA.
Rasa Technology and Innovation Center
A new research center subordinate to the Nuclear Science and Technology Research Institute (NSTRI), which is part of the AEOI. Established in July 2021.
 
____________________
IN THE NEWS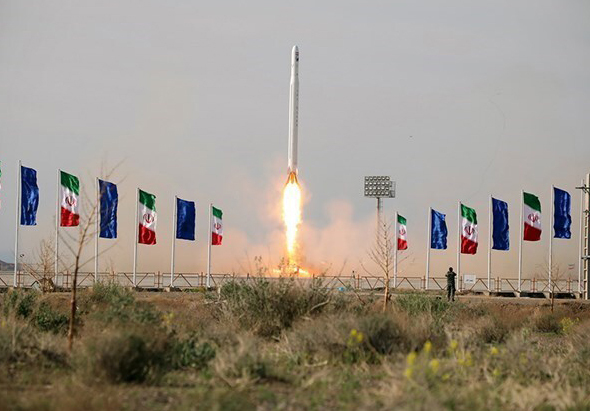 Image source: Tasnim News
Iran's Revolutionary Guard Says It Launches Second Satellite | Associated Press
March 8, 2022: The Islamic Revolutionary Guard Corps (IRGC) Aerospace Force claimed it successfully launched a reconnaissance satellite into orbit on March 8. The three-stage, solid- and liquid-fueled Qased space-launch vehicle (SLV) carried the Noor-2 satellite into low-earth orbit. Iranian state media footage showed that the SLV was launched from a mobile launcher on a concrete pad near Shahroud. It was the IRGC space program's second launch; the Aerospace Force launched the first Noor satellite on the Qased SLV in 2020. The IRGC space program is distinct from the Iranian Space Agency, which reportedly experienced a failed launch in early March. (Image via Tasnim News)
Watchdog: Iran Converts Sliver Of Its High-Enriched Uranium | Associated Press
March 18, 2022: According to a confidential International Atomic Energy Agency (IAEA) report, Iran has taken the first step in converting 2.1 kilograms of its 60%-enriched uranium into a form used for medicine. The isotope that will result once the process is completed, molybdenum-99, cannot be processed further into nuclear fuel. Iranian media outlet Mehr News publicly reported the conversion. The IAEA estimated Iran's stockpile of 60%-enriched uranium to be 33.2 kilograms as of February 19.
 
Iran's Attack Was Response To Secret Israeli Attack On Drone Site | The New York Times
March 16, 2022: An Iranian missile strike on a residential compound in northern Iraq was meant to retaliate against an Israeli airstrike on an Iranian drone factory in February, according to unnamed intelligence officials. Israel reportedly sent six "suicide drones" to detonate on the Iranian military's main drone manufacturing facility in Kermanshah, Iran. The attack destroyed dozens of Iranian drones, according to the officials. Iranian officials have said that the Kermanshah facility is an Islamic Revolutionary Guard Corps (IRGC) base. Iran has not publicly stated that its missile strike on Erbil was linked to the Kermanshah attack.
____________________
FROM THE LIBRARY
 
The IAEA released its latest reports on Iran's nuclear program at its quarterly board meeting and announced an agreement with Iran to address the presence of nuclear material at three undeclared sites.
Diplomacy surrounding the JCPOA continued after Russia shook up the talks by demanding an exemption from sanctions imposed in response to its invasion of Ukraine.
Members of Congress weighed in on nuclear negotiations with Iran and the U.S. military posture in the Middle East.
The U.S. Treasury Department released National Risk Assessments for money laundering, proliferation financing, and terrorist financing.