This month's newsletter includes a new episode of the Iran Watch Listen podcast, in which we discuss the role that the Treasury Department has played in the U.S. sanctions campaign against Iran. Our guest, a former top Treasury official, also provides insight into how the Trump administration's multilayered sanctions on Iran will complicate any effort by the incoming Biden administration to offer Iran economic relief as part of negotiations or a new agreement.
Other items in the newsletter include initial reactions to the assassination of Iranian nuclear scientist Mohsen Fakrizadeh, documents from the International Atomic Energy Agency (IAEA) about Iran's nuclear expansion, reports on recent Iranian military exercises, and notices about the latest sanctions in the ongoing U.S. pressure campaign. The newsletter also highlights several entities providing financial support to the Islamic Revolutionary Guard Corps (IRGC) and recent news about Iran's development of underground missile bases.
Subscribe here to receive the newsletter in your inbox.
Iran Watch Publications:
 
The U.S. Treasury Department and the Future of U.S. Sanctions on Iran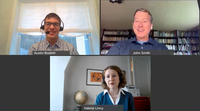 In the second episode of the Iran Watch Listen podcast, we interview John Smith, former Director of the U.S. Treasury Department's Office of Foreign Assets Control (OFAC). OFAC administers and enforces U.S. economic and trade sanctions programs and has played a pivotal role in U.S. efforts to counter the multiple threats posed by Iran. In this podcast, we discuss the impact of sanctions imposed as part of the Trump administration's "maximum pressure" campaign, the effectiveness of that campaign, and its legacy if the incoming Biden administration seeks to offer Iran economic relief as part of negotiations or a new agreement. We also discuss the use of sanctions as a tool of U.S. foreign policy and the potential consequences of their misuse.
Listen to the podcast here, and subscribe to Iran Watch Listen on Apple Podcasts, Spotify, Stitcher, Google Podcasts, or wherever you get your podcasts.
Iran Watch Library:
 
Top Iranian nuclear scientist Mohsen Fakhrizadeh assassinated:
International Atomic Energy Agency (IAEA) reports on developments in Iran's nuclear program:
Iran showcases military capacity:
United States ramps up pressure campaign, targeting Iranian military:
Entities of Proliferation Concern:
 
A subsidiary of Iran's Ansar Bank; has facilitated financial transactions for Ansar Bank, the Islamic Revolutionary Guard Corps (IRGC), and Iran's Ministry of Defense and Armed Forces Logistics (MODAFL); has a close relationship with the IRGC Quds Force (IRGC-QF).
Managing director of Ansar Bank since 2005; a member of the IRGC; has facilitated financial transactions for the IRGC-QF.
Islamic Revolutionary Guard Corps (IRGC) Quds Force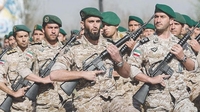 A branch of the IRGC; provides financial and military support to militant and terrorist groups, including Hezbollah, and to groups in Africa; officers have trafficked narcotics and use diplomatic, non-governmental, and humanitarian organizations as cover for operational activities.
In the News:
 
Iran Reveals New Underground Missile Base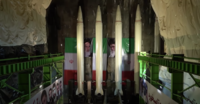 November 5: In a YouTube video, Iran showcased an underground military base stocked with Emad missiles. The base features a rail system that appears to enable Iran to move multiple missiles through tunnels to positions beneath silo doors, which would allow the missiles to be fired rapidly from a protected position.
Iranian Parliament Approves Bill Specifying Increased Uranium Enrichment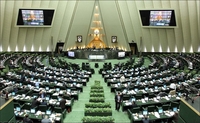 November 5: Iran's Parliament approved a bill requiring the Atomic Energy Organization of Iran (AEOI) to produce at least 120 kilograms of 20 percent enriched uranium annually at the Fordow nuclear facility. Production must begin within two months and the material must be stored in Iran. The bill also requires the AEOI to increase monthly production of enriched uranium to 500 kilograms; install and begin enrichment in at least 1,000 IR-2m centrifuges at the underground facility at Natanz; move enrichment research and development operations on the IR-6 centrifuges to Fordow; use 1000 IR-6 machines for enrichment at Fordow by March 2021; and return the Arak heavy water reactor to its "pre-JCPOA condition" within four months. Within two months, the AEOI must suspend access to nuclear sites beyond what is required by the International Atomic Energy Agency's (IAEA) Additional Protocol and stop voluntary implementation of the Protocol if Europe fails to restore banking relations with Iran that allow for the sale of oil.
IDF Says Iran's Quds Force Responsible for Explosives Placed on Syrian Border
November 19: The Israeli military claims Unit 840 of the Islamic Revolutionary Guard Corps Quds Force (IRGC-QF) is responsible for planting explosives on the border between Israel and Syria. In response, Israel this week struck targets around Damascus connected to the IRGC and to divisions of the Syrian military that cooperate with Iranian forces. Israeli officials also blame Unit 840 for an earlier attempt by four armed men to plant explosives in an unmanned outpost on the Syrian border.