This month's newsletter features a new episode of Iran Watch Listen, a podcast by the Wisconsin Project on Nuclear Arms Control. We sat down with Dan Gettinger and Adam Rawnsley to discuss Iran's military drone program, including the country's current capabilities, its drone exports to governments and non-state groups, and whether tighter sanctions and export controls could hinder the program's progress.
In addition, the newsletter includes profiles of several entities that have smuggled oil and laundered money on behalf of the Islamic Revolutionary Guard Corps (IRGC) Quds Force, as well as news about U.S. and European allegations that Iran's drone sales to Russia constitute a violation of the U.N. Security Council resolution that endorsed the JCPOA nuclear deal, U.S. claims that IRGC personnel are in Crimea to help Russian forces operate those drones, and reports that Iran may be preparing to sell ballistic missiles to Russia. Additions to the Iran Watch library include sanctions announcements by Western governments related to Iranian petrochemical sales, human rights violations during the ongoing protests in Iran, and drone sales to Russia.
____________________
PUBLICATIONS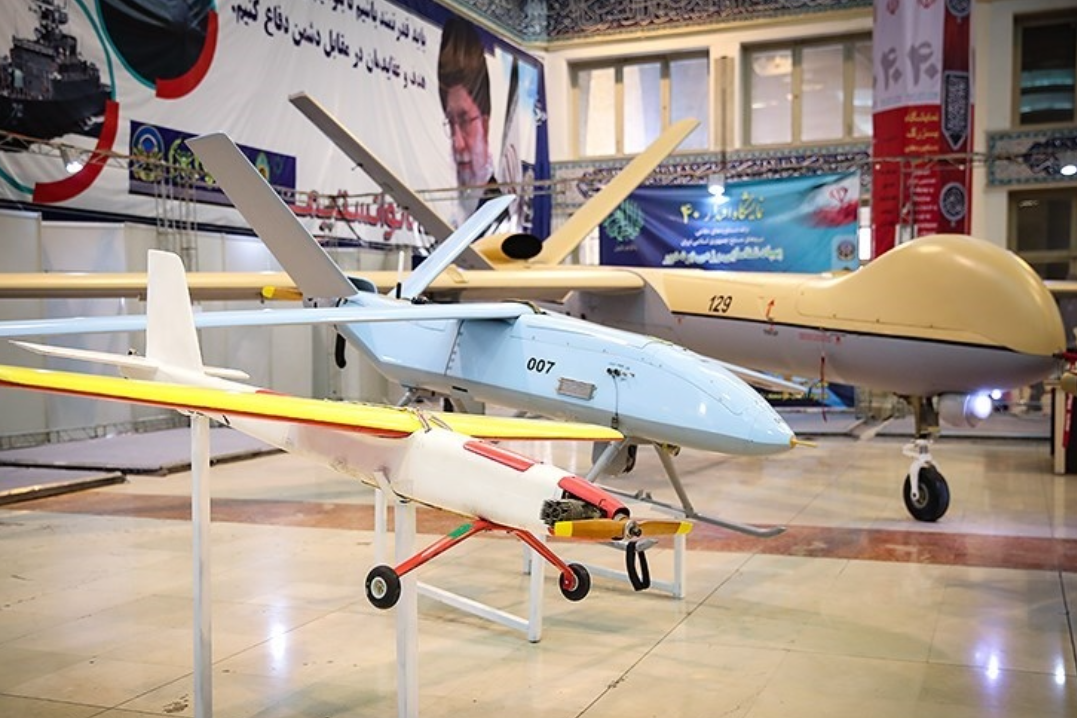 Iranian drones at a 2019 defense exhibition in Tehran. (Credit: Tasnim News Agency)
Podcast | Has Iran Become the Master of its Drone Destiny?
Iranian drones have been making international headlines since Iran began selling them to Russia to use in Ukraine. But how capable are they? And could tighter international sanctions and export controls effectively slow Iran's development of drones? Wisconsin Project researchers sat down with two experts, Dan Gettinger and Adam Rawnsley, to better understand the past, present, and future of Iran's drone program. Dan Gettinger is the Director of Publications and Communications at the Vertical Flight Society and Adam Rawnsley is a reporter at Rolling Stone and a Fellow at the Foreign Policy Research Institute.
____________________
ENTITIES OF CONCERN
The IRGC Quds Force relies on networks of individuals and front companies based outside of Iran to smuggle oil and launder money. The funds can then be used to for activities related to terrorism and arms transfers. In May, the U.S. Treasury Department sanctioned one such network involving entities in Russia and China.
An official in the IRGC Quds Force; runs a money-laundering and oil-smuggling network for the benefit of the Quds Force and Hezbollah in collaboration with Rostam Qasemi, a former IRGC official and Iran's current Minister of Roads and Urban Development.
A Russia-based wholesale trading company; has assisted Rostam Qasemi in the transfer millions of dollars from Russia on behalf of the IRGC Quds Force; has been party to oil sales and transport overseen by Qasemi.
An Iran-based joint venture between Chinese and Iranian energy companies; has assisted the IRGC Quds Force with smuggling and selling oil; collaborated with Behnam Shahriyari and his Turkey-based associates to launder the proceeds of the sales.
____________________
IN THE NEWS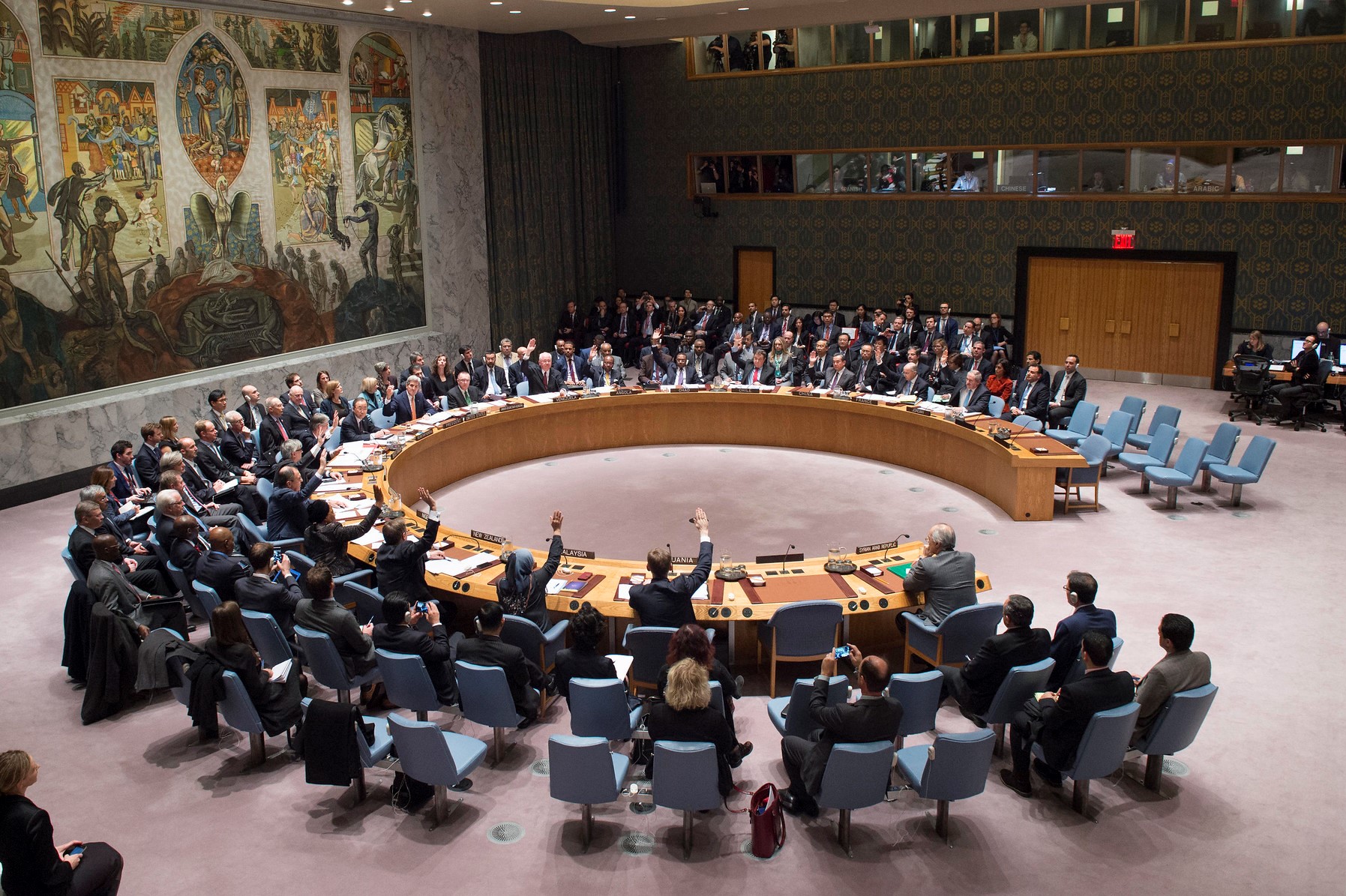 A United Nations Security Council meeting. (Credit: Eskinder Debebe, UN Photo.)
Iran Sends Drone Trainers to Crimea to Aid Russian Military | New York Times
October 18, 2022: Iran has sent members of its Islamic Revolutionary Guard Corps to a base in Crimea to help Russian soldiers operate drones purchased from Iran, according to U.S. officials. Originally, Russia had sent its personnel to Iran for such training. Iran denied the claim.
U.S. Says Iran Supplying Drones to Russia Violates U.N. Resolution | Reuters
October 17, 2022: The United States said that Iran's supply of drones to Russia is a violation of U.N. Security Council resolution 2231, the resolution that endorsed the 2015 nuclear agreement between Iran and world powers. France and the United Kingdom had earlier put forth similar assessments.
Iran Plans to Send Missiles, Drones to Russia for Ukraine War, Officials Say | Washington Post
October 16, 2022: Iran is planning to transfer Fateh-110 and Zolfaghar short-range ballistic missiles to Russia, according to U.S. and allied security officials. Iran is also preparing new deliveries of dozens of Mohajer-6 drones and a larger number of Shahed-136 "kamikaze" drones.
____________________
FROM THE LIBRARY
In late September, the United States sanctioned an international network of companies helping Iran evade sanctions to sell petrochemical products.
The Departments of State and Treasury collectively sanctioned ten entities that were enabling Triliance Petrochemical Co. Ltd. and Persian Gulf Petrochemical Industry Commercial Co., both Iranian companies, to transfer funds and ship petroleum and petrochemicals to buyers in Asia – September 29.
The Treasury announcement noted that these sanctions were reversible in the event of Iran's return to JCPOA compliance – September 29.
Following U.S. sanctions against Iran's morality police in September, several other Western governments imposed similar sanctions related to human rights violations and the ongoing protests in Iran.
Canada issued three rounds of sanctions targeting a total of 48 individuals and 16 entities ranging from the head of Iran's morality police to the Guardian Council. Prime Minister  Justin Trudeau also announced that he would bar more than 10,000 IRGC members from entering Canadian territory – October 3, 7, 13, and 19.
The United States itself issued a second sanctions package aimed at Iran's Law Enforcement Forces as well as those responsible for the country's internet shutdown – October 6.
The United Kingdom and the European Union targeted many of the same senior law enforcement officials and political figures – October 10 and 17.
After the United States sanctioned several Iranian entities involved in the production of drones and drone shipments to Russia in September, the European Union and the United Kingdom followed suit in October.