Related Country:
China
Iraq
Russia
Syria
Tajikistan
Ukraine
Venezuela
Yemen
In this episode of Iran Watch Listen, we sat down with Dan Gettinger and Adam Rawnsley, both experts on Iranian drones and drone technology. We discussed the current state of Iran's capabilities, Iran's growing ambitions to become a drone exporter, and whether tighter sanctions and export controls could hinder its progress. The conversation took place on September 15 and was hosted by John Caves, Senior Research Associate at the Wisconsin Project on Nuclear Arms Control, and John Krzyzaniak, a Research Associate at the Wisconsin Project. Read more about our guests below.
Background
Unmanned aerial systems (UAS), commonly known as unmanned aerial vehicles (UAVs) or drones, are remote-controlled pilotless aircraft. Drones generally perform two military missions: intelligence, surveillance, and reconnaissance (ISR) and striking targets using on-board munitions or explosive payloads. Those with strike capabilities are sometimes called unmanned combat aerial vehicles, or UCAVs. "Kamikaze" or "suicide" drones, also known as loitering munitions, carry an explosive payload all the way to the target and destroy themselves on impact, functioning much like a cruise missile.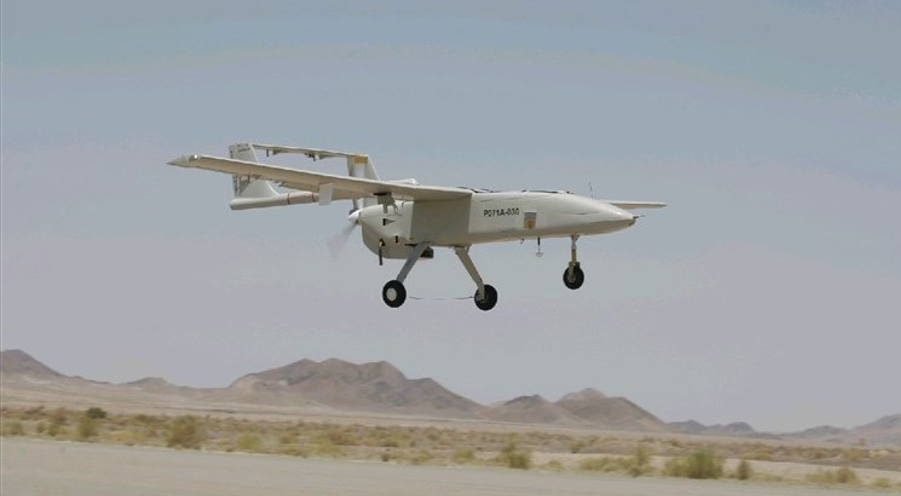 An Iranian Mohajer-6 drone. Credit: Tasnim News Agency
Drones are generally grouped according to their weight at take-off, the distance they can fly, the amount of time they can remain in the air, and their top speed. The most capable drones, classified as medium-altitude long-endurance (MALE) or high-altitude long-endurance (HALE), typically have a takeoff weight of 600 kilograms or more and can remain aloft for at least 24 hours.
Our Discussion
We reviewed the current state of Iran's drone program and the entities involved in producing drones or procuring parts for them. These include Iran Aircraft Manufacturing Industries (HESA), Qods Aviation Industries, the IRGC Aerospace Force Self-Sufficiency Jihad Organization, Shahed Aviation Industries, and Oje Parvaz Mado Nafar (often shortened to simply "Mado").
Iran's drone program emerged in the 1980s during the war with Iraq, when it began using small, radio-controlled model aircraft equipped with off-the-shelf cameras to surveil developments on the front lines. Since then, Iran's drone fleet has grown to include numerous models, including several MALE drones capable of carrying munitions, such as the Shahed-129 and the Mohajer-6. However, Iranian drones are not as capable in terms of range and endurance as their foreign counterparts, even if some appear to be reverse-engineered versions of models obtained from abroad.
Rawnsley described how Iranian drone development in recent years has proceeded along two separate tracks. On one track, Iran is developing increasingly sophisticated drones for use in its own armed forces and to sell to other countries. On the second track, Iran is developing "proxy-first" drones and other loitering munitions that are designed to be easier to covertly transport, assemble, and be operated by non-state groups. One example is the "358" loitering munition, which is produced in Iran and has been transferred to the Houthis in Yemen, but has not been publicly displayed by Iran's own armed forces.
Our discussion also covered Iran's drone exports. Although Iran may not offer the cutting-edge capabilities that some other drone producers can (notably Israel, Turkey, and the United States), it has found customers over the years, including in Sudan, Venezuela, Ethiopia, and now Russia. Moreover, Iran announced in June 2022 that it was opening a production line for its Ababil-2, a small tactical drone with a range of about 200 km and a flight time of roughly 1.5 hours, in Tajikistan. These recent developments are indications that Iran is seeking to expand its customer base beyond its traditional Axis of Resistance partners—and doing so with some success.
The final part of the discussion turned toward Western efforts to constrain Iran's drone development through export controls and sanctions. Gettinger suggested that, in some ways, supply-side controls have worked, given Iran's longstanding struggle to procure advanced components for its drones. However, Iran's illicit supply networks are diverse and have drawn on many foreign sources, making it difficult to close off every path completely. Both Gettinger and Rawnsley pointed to the role of China as a direct supplier of components to Iran and as a transshipment location for such components. China's dual role remains a weak point in international efforts to enact more stringent supply-side controls against Iran.
Expert Bios
Dan Gettinger is the Director of Publications and Communications at the Vertical Flight Society. Before that he was the founder and co-director of the Center for the Study of the Drone at Bard College where he authored the Drone Databook. He tweets at @gettdan.
Adam Rawnsley is a reporter at Rolling Stone and a Fellow at the Foreign Policy Research Institute. His work focuses on the intersection of technology and security, and he's been doing in-depth investigations into Iranian drone proliferation for about a decade. He tweets at @arawnsley.
Related Resources
Subscribe to Iran Watch Listen on Apple Podcasts, Google Podcasts, Spotify, Stitcher, or wherever you get your podcasts.