Publication Type:
International Enforcement Actions
Related Country:
Canada
Germany
United States
As Iran ramps up uranium enrichment, authorities in multiple countries have uncovered efforts by Iranian agents to procure mass spectrometers from abroad. These dual-use machines, which can precisely measure the purity and molecular structure of radioactive material, are essential for uranium enrichment. They also have a range of non-nuclear uses.
One recent case involved two individuals with ties to Canada and Iran who allegedly transshipped U.S.-origin spectrometers to Iran via the United Arab Emirates (UAE). A second case involved a German-Iranian national who allegedly shipped spectrometers directly from Germany to Iranian companies that had been sanctioned by the European Union for supporting Iran's nuclear program.
These cases, both opened in 2021, involve alleged transactions dating from 2015-2016 and 2019, respectively. The timing indicates that Tehran may have continued to use illicit means to further its uranium enrichment program even though the Joint Comprehensive Plan of Action (JCPOA) provided a licit procurement channel for such acquisitions. The cases also suggest that Iran still relies on – or prefers – Western-origin technology for its nuclear program, and they provide illustrative examples of the diverse sanctions evasion methods used to import items from Europe and North America into Iran.
More about Mass Spectrometers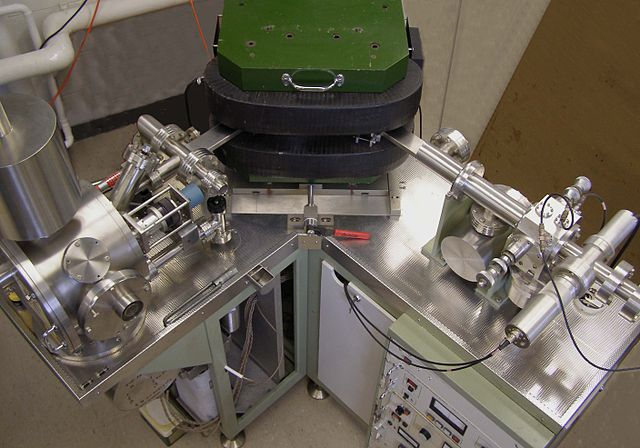 Mass spectrometers can analyze the composition of material at the atomic level. They have diverse uses in chemistry, geology, and medicine. They are also essential for uranium enrichment because they can measure the exact enrichment level of a sample of uranium hexafluoride. Mass spectrometers capable of measuring ions of 230 atomic mass units and higher are considered dual-use items by the Nuclear Suppliers Group (NSG). Under U.S. export control laws, such precise spectrometers are controlled for anti-terrorism and nuclear nonproliferation reasons and would need a license for export to the UAE or Iran. Spectrometers below this threshold are controlled by the United States for anti-terrorism reasons and would require a license for export to Iran. Under EU law, spectrometers capable of measuring ions of 200 atomic mass units or more are classified as dual-use controlled items that could contribute to nuclear activities inconsistent with the JCPOA, with licensing requirements for would-be exporters.
The German Case: Alexander J.
Working out of his home in Segeberg, a district north of Hamburg, Alexander J.,[1] a German-Iranian national, allegedly used his small company to procure mass spectrometers and other sensitive items from German manufacturers on behalf of two Iranian clients. In separate orders placed in March and October 2019, Alexander J. procured 23 items, including two mass spectrometers worth €388,000 ($451,127). A second Iranian customer approached Alexander J. in May 2019 to request two more spectrometers. He procured the systems and received a €166,000 ($193,000) payment for delivery to Iran in January 2020. During the three-year operation, he never applied for an export license and it appears that the German companies providing the spectrometers were unaware of the true nature of the scheme.
Alexander J. was allegedly assisted by two other suspects, one based in state of Schleswig-Holstein and another in North Rhine-Westphalia, the industrial heart of Germany. He also worked directly with an Iranian national who had already attracted attention from EU authorities. According to a press release from the German federal prosecutor's office, the unnamed Iranian is a middleman who works on behalf of the Iranian government. His companies had previously been designated by the European Union for procuring laboratory equipment to support Iran's nuclear program.
Based on German press coverage and publicly available corporate information, Alexander J.'s trading company supplies "Europe, the Middle East, Africa, and foreign national oil and gas companies, [and] offshore subsidiaries and companies operating plants and projects worldwide." It also offers shipping services and has a branch office in the Republic of Georgia.
The U.S.-Canadian Case: Reza Sarhangpour Kafrani and Seyed Reza Mirnezami
This scheme, which took place from February 2015 to October 2016, followed a familiar Iranian procurement blueprint: Iranian or allied agents create a legitimate-looking business and approach a manufacturer of a sensitive product and either conceal the Iranian connection or attempt to convince the seller that the transaction is permissible. The product is then routed through transshipment hubs and perhaps mislabeled in shipping documents.
Reza Sarhangpour Kafrani and Seyed Reza Mirnezami allegedly began their scheme in February 2015 by using their Canadian company Prolife Global Ltd. to purchase laboratory equipment from the United States. Kafrani, an Iranian citizen residing in Canada at the time, had until 2014 managed Ebn Sina Laboratory, a food sciences lab in Iran. Mirnezami is a Canadian-Iranian dual citizen affiliated with Sharif University of Technology, which has been designated by the European Union for ballistic missile production and procurement. They shipped their first lab equipment order, which did not include any spectrometers, from Canada to Iran via the UAE. Correspondence between Kafrani and Mirnezami summarized in the indictment indicates that they resold the equipment at a markup once it reached Iran.
In May 2015, Mirnezami approached the Canadian government to inquire about purchasing laboratory equipment for Iranian buyers. According to the indictment, the government advised Mirnezami that sanctions on Iran would prohibit such a transaction. Court documents allege that Mirnezami and Kafrani then debated over email how to continue the operation.
Kafrani began negotiations with a U.S. company to purchase mass spectrometers but asked the company whether the price would be the same if the order was shipped to the Middle East instead of Canada. The company's representative replied "You know there are sanctions in place for Iran." Despite this response, the co-conspirators tried to convince the company that it was possible to legally export the spectrometers to Iran. Kafrani wrote back, "spectrometry instruments can be exported to Iran without needing permission from OFAC office."
Even though the would-be seller stopped replying to their emails after November 2015, the co-conspirators applied for export licenses from the U.S. Treasury Department's Office of Foreign Assets Control (OFAC) twice, in November 2015 and April 2016, identifying Ebn Sina Laboratory as the end user. They also applied for a license from the Commerce Department's Bureau of Industry and Security, which referred them back to OFAC.
After OFAC rejected both applications, rather than ceasing their attempts to ship equipment to Iran, the pair approached a different U.S. manufacturer and falsely indicated that they required equipment for their Montreal-based company. Through Prolife, Kafrani was able to acquire at least two mass spectrometers from the United States, split between two orders. He and Mirnezami shipped them to the UAE and then arranged for a UAE-based shipping company to transport them to Iran in September and October 2016. What happened thereafter remains unclear. Kafrani was arrested when he visited the U.S. border to resolve an immigration issue in July 2021. Mirnezami appears to still be at-large.
Past is Prologue
Iran has illicitly procured mass spectrometers with the intention of using them in its nuclear program in the past. In 2002, a member state of the Nuclear Suppliers Group (NSG) blocked the sale of a mass spectrometer to Tehran University. In 2003, IAEA inspectors discovered two undeclared mass spectrometers in use at the Karaj Nuclear Research Centre for Medicine and Agriculture, a facility in Iran that had been conducting laser and centrifuge enrichment activities. Iranian officials admitted to the IAEA that they had used the spectrometers in a secret laser enrichment program that they claimed had since been dismantled. The Australian export officials who had licensed the spectrometer sales had been told that they were intended for agricultural use. Mass spectrometers appeared again in a U.S. case prosecuted in 2013, in which Iranian national Parviz Khaki and Chinese national Zongcheng Yi had allegedly orchestrated a transshipment scheme in 2008 to move controlled raw materials and spectrometers from the United States to Iran via Hong Kong.
Procurement Trends and Implications
These recent cases involve Iranian agents procuring dual-use mass spectrometers for end-use in Iran. In the U.S.-Canadian case, Kafrani and Mirnezami operated as independent businessmen, ordering laboratory equipment from the United States and reselling to the highest bidder in Iran, at times seeking approval for the exports from U.S. and Canadian authorities. In the German case, Alexander J. took direct orders from an Iranian individual whose companies had known connections to the country's nuclear program. He never applied for an export license, suggesting that his preferred method was to conceal rather than convince. He and his co-conspirators may have been operating in coordination with the Iranian government, while the Canadian group were likely more profit-seeking opportunists working without guidance.
Publicly documented instances of Iranian efforts to procure mass spectrometers from abroad date back to at least April 2002. The continued efforts illustrated in the two recent cases suggest that Iran still seeks Western-origin instruments to support its nuclear program. The cases also illustrate that Iran's international procurement network is not a monolithic, government-run pipeline, but rather a constellation of opportunistic individuals, shell companies, both complicit and unwitting manufacturers and shipping firms, and agents operating on orders from Tehran. These actors are located in various jurisdictions and have varying motivations, which complicates enforcement efforts. As a result, sought-after dual-use technology continues to flow into Iran where it can be used to further the Iranian nuclear program, thereby undermining multilateral diplomatic efforts to limit that program.
 [1] In Germany, suspects' last names are protected by privacy laws.
Footnotes:
"Category 3 – Electronics," Commerce Control List, Bureau of Industry and Security, U.S. Department of Commerce, available at https://www.bis.doc.gov/index.php/documents/regulations-docs/2334-ccl3-8/file, accessed on October 25, 2021.
European Union Council Regulation 267/2012 of 23 March 2012 concerning restrictive measures against Iran and repealing Regulation (EU) No 961/2010, last modified July 31, 2021, available at https://eur-lex.europa.eu/legal-content/EN/TXT/PDF/?uri=CELEX:02012R0267-20210731&from=EN, accessed on October 22, 2021.
"Festnahme wegen mutmaßlicher Verstöße gegen das Außenwirtschaftsgesetz (Charges brought for alleged violations of the foreign trade act)," German Federal Public Prosecutor General, September 14, 2021, available at https://www.generalbundesanwalt.de/SharedDocs/Pressemitteilungen/DE/aktuelle/Pressemitteilung-vom-14-09-2021.html (in German), accessed on October 22, 2021.
"Guidelines for transfers of nuclear-related dual-use equipment, materials, software, and related technology," Nuclear Suppliers Group Part 2 Guidelines, June 2019, available at http://nuclearsuppliersgroup.org/images//2019NSG_Part_2.pdf, accessed on October 27, 2021.
Indictment, United States vs. Reza Sarhangpour Kafrani and Seyed Reza Mirnezami, July 30, 2021, available at https://www.justice.gov/opa/press-release/file/1419211/download, accessed on October 22, 2021.
"Iranian National Charged with Illegally Exporting Laboratory Equipment to Iran," Press Release, U.S. Department of Justice, July 30, 2021, available at https://www.justice.gov/opa/pr/iranian-national-charged-illegally-exporting-laboratory-equipment-iran, accessed on October 22, 2021.