This month's newsletter features an update to a table that details Iran's missile arsenal, the largest in the Middle East. Since the last update, Iran has unveiled the solid-fueled "hypersonic" Fattah missile as well as a new variant of the liquid-fueled Khorramshahr, Tehran's longest-ranged missile. Iran also claims to have deployed the Haj Qassem, a solid-fueled ballistic missile with a 1,400-kilometer range.
The newsletter also includes profiles of entities supplying Iran's missile and unmanned aerial vehicle (UAV) programs through a company based in Turkey, as well as news that Iran has unveiled a new long-endurance drone, that it has slowed its accumulation of uranium enriched to 60 percent, and that Russia has begun producing its own variant of the Iranian-designed Shahed-136 one-way attack drone. Additions to the Iran Watch library include U.S. officials' statements about the recent U.S.-Iran prisoner exchange deal and Western sanctions announcements targeting Iran's drone program.
Sign up to receive the newsletter in your inbox.
____________________
PUBLICATIONS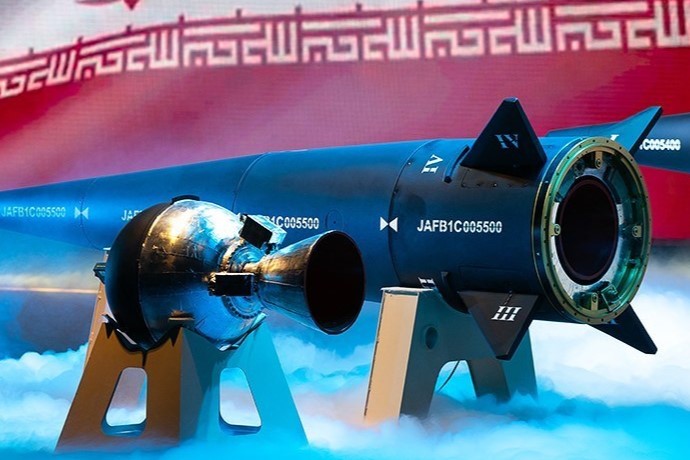 The Fattah missile's unique feature is a re-entry vehicle that contains its own steerable rocket motor. (Credit: Tasnim News Agency)
Table | Iran's Missile Arsenal
Iran possesses the largest and most diverse missile arsenal in the Middle East. This table sets forth what is publicly known, claimed, or estimated about the capabilities of Iran's ballistic missiles, cruise missiles, and space launch vehicles. Since the table's last update, Iran has unveiled the Fattah "hypersonic" missile, developed by a unit within the Islamic Revolutionary Guard Corps. It has also introduced the Khorramshahr-4 (Kheibar) missile, which, unlike earlier variants of the Khorramshahr, has a mid-course guidance and control system allowing it to adjust its trajectory while outside the atmosphere.
____________________
ENTITIES OF CONCERN
In March 2023, the U.S. Department of the Treasury sanctioned a Turkey-based network for supplying Iran's UAV and missile programs. The Department of Justice unsealed an indictment targeting the same network.
An Iranian national; involved in procuring equipment for Iran's UAV and weapons programs, including for the Defense Technology and Science Research Center; controls Farazan Industrial Engineering, Inc.; indicted in the United States on May 3, 2018, for his alleged involvement in a conspiracy to procure and export U.S. technology to Iran through companies in Turkey.
A Turkish national; supported Amanallah Paidar in his procurement efforts; controls Ozone Aviation and Defense Industry Inc.; also indicted on May 3, 2018; pleaded guilty in December 2022 and sentenced to 28 months in prison in March 2023.
Ozone Aviation and Defense Industry Inc.
A Turkey-based company used by Murat Bukey to facilitate business with Iran; de facto successor to Ozon Spor Ve Hobi Urunleri (Ozone Hobby), a dormant company also indicted on May 3, 2018, together with Bukey, Paidar, and Farazan Industrial Engineering, Inc.
____________________
IN THE NEWS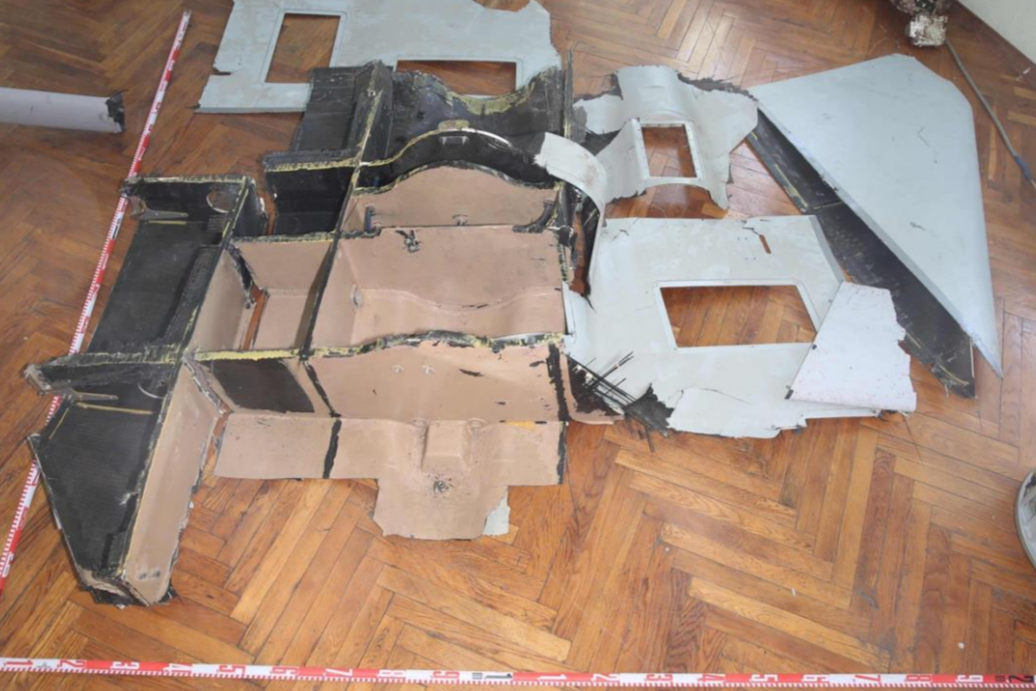 The airframe of a Shahed-136 (Geran-2) documented by Conflict Armament Research in July, which had a different structure than earlier versions. (Credit: Conflict Armament Research)
Iran Unveils Mohajer-10 Drone Capable of Flying for 24 Hours | Islamic Republic News Agency
August 22, 2023: At a ceremony marking Defense Industry Day, Iran unveiled a new UAV called the Mohajer-10, which it said had an operational range of 2,000 km and a payload capacity of 300 kg. During the ceremony, President Ebrahim Raisi also ordered the delivery of two ballistic missile systems, the Khorramshahr and the Haj Qassem, to the armed forces and the Islamic Revolutionary Guard Corps (IRGC).
Iran Slows Buildup of Uranium Needed for Weapon | Wall Street Journal
August 11, 2023: Iran has slowed the pace at which it is accumulating uranium enriched to 60 percent purity and has diluted some of its existing stockpile. The move may be part of a broader effort between the United States and Iran to reduce tensions. Iran still has enough 60 percent material for at least two nuclear weapons if it were enriched further.
Russia Is Replicating Iranian Drones and Using Them to Attack Ukraine | New York Times
August 10, 2023: Russia has begun producing its own variant of the Shahed-136 one-way attack drone. Specialists at Conflict Armament Research, an independent weapon tracking group, examined the wreckage of two drones in late July that appeared to be Shahed-136 models but contained different materials from those known to have been made in Iran. They also had electronic modules that matched ones previously found in other Russian-made drones.
____________________
FROM THE LIBRARY
The United States and Iran reached a deal to release five U.S. citizens detained in Iran, the full implementation of which is expected to take several weeks.
U.S. Secretary of State Antony Blinken said that the $6 billion of Iranian funds that would be unfrozen could "only be used for humanitarian purposes" and that the United States would continue to enforce all of its sanctions - August 10.
Secretary Blinken later said that, despite the prisoner deal, the two countries had not reached any agreement on the nuclear issue, which is "an entirely separate matter" - August 15.
Western countries announced new sanctions targeting Iran's drone program.