This month's newsletter includes analysis of several recent export enforcement cases against American and Iranian citizens attempting to obtain U.S.-origin technology on behalf of Iran. The newsletter also features documents related to the recent downing by Iran of a U.S. drone, a possible Iranian attack on oil tankers in the Gulf of Oman, a report by the International Atomic Energy Agency on Iran's compliance with the Joint Comprehensive Plan of Action (JCPOA), Iran's plans to increase its production of enriched uranium, news about Iranian missile-related procurement from Germany, and more.
Subscribe here to receive it in your inbox.
Iran Watch Publications
 
How Freight Forwarders and Front Companies Help Iran Obtain American Technology
Earlier this month, the U.S. Justice Department announced that New Jersey woman Joyce Marie Eliabachus pleaded guilty to conspiring with Iranian national Peyman Amiri Larijani to ship American-made components for aircraft to U.S.-sanctioned airlines in Iran. The trial of Aiden Davidson, a resident of New Hampshire and citizen of Iran and the United States accused of involvement in a similar scheme, will begin early next month. According to investigators, Davidson sent military surplus from the U.S. Department of Defense to an Iranian business. In both cases, prosecutors allege that American nationals circumvented trade barriers and obscured the final destination of these shipments by routing them through a series of freight forwarders and front companies in the Middle East.
Read more about these export enforcement cases here.
Extradition of Iranian Engineer, Suspected of Missile-Related Procurement, Moves Forward
Last month, a French appellate court upheld the extradition of Jalal Rohollahnejad, an Iranian engineer whom authorities in the United States have accused of seeking to acquire U.S. anti-drone technology for Rayan Roshd Afszar, an Iranian company tied to the Islamic Revolutionary Guard Corps (IRGC). Rohollahnejad allegedly aimed to disguise the Iranian end-user and destination for these items by using a Chinese pseudonym and declaring the United Arab Emirates as the ultimate destination. Rohollahnejad also admitted in court to having worked for the Aerospace Industries Organization (AIO), a U.S.-sanctioned Iranian state-owned enterprise involved in Iran's production of ballistic missiles. French authorities arrested Rohollahnejad in early February. His lawyers plan to appeal the extradition, which will also require the approval of the French Prime Minister to proceed.
Learn more about this case here.
Iran Watch Library
 
On June 20, Iran downed an American drone flying near the Strait of Hormuz, claiming that the drone had violated Iranian airspace; the U.S. contends that the drone remained in international airspace:
This event followed the June 13 attack on two oil tankers in the Gulf of Oman, an incident that the U.K. and U.S. blamed on Iran:
Atomic Energy Organization of Iran announces plans to increase production of enriched uranium fourfold - June 18, 2019
Iran's Supreme Leader declines to convey message to U.S. during meeting with Japanese President - June 13, 2019
U.S. Treasury Dept. sanctions Iran's largest petrochemical holding group - June 7, 2019
IAEA reports on monitoring and verification of Iran's compliance with the JCPOA - May 31, 2019
Entities of Proliferation Concern
 
Rayan Roshd Afzar
Supplies components to the unmanned aerial vehicle (UAV) and aerospace programs of Iran's Islamic Revolutionary Guard Corps (IRGC).
Shahid Alamolhoda Industries

Involved in the development of missile components. Conducts research on infrared systems used in military applications, including research on infrared guided missiles. Controlled by Iran's Naval Defence Missile Industry Group.
Aerospace Industries Organization (AIO)
Oversees Iran's missile production. The leading industrial and military subsidiary of Iran's Ministry of Defense and Armed Forces Logistics (MODAFL).
David Levick
An Australian citizen convicted of conspiring to export sensitive military and other technology from the United States to Iran, including components with applications in missiles, drones, torpedoes, and helicopters.
In the News
 
Iran Registers Four-Fold Growth of Uranium Output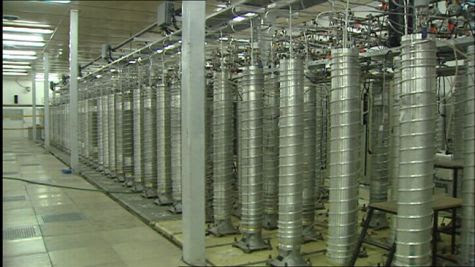 June 17, 2019: A spokesman for the Atomic Energy Organization of Iran (AEOI), Behrouz Kamalvandi, announced that Iran had increased its production of enriched uranium to four times the previous level, threatening to bring the country's stockpile over the 300 kilogram limit set by the Joint Comprehensive Plan of Action (JCPOA) within ten days. Kamalvandi also said that Iran would surpass the 130 ton limit on heavy water set by the JCPOA within two and a half months, if Iran is unable to sell excess amounts overseas. Kamalvandi added that Iran could begin enriching uranium above 3.7 percent within one or two days, as mandated by the Supreme National Security Council, if the other JCPOA parties fail to meet their commitments under the agreement.
Iran Seeking to Expand Military Program to Weapons of Mass Destruction: German Intelligence
May 28, 2019: A May 2019 report from the Bavarian Office for the Protection of the Constitution, a German intelligence agency, accused Iran of attempting to forge ties with technology companies "in highly technological countries like Germany" as part of a wider effort to develop weapons of mass destruction. The report noted that Iran tried to use a Malaysian front company to import an electron beam welding machine from a Bavarian company. The intelligence agency alleged that Iran could use the equipment for missile production. German authorities intercepted the attempted export and convicted the Bavarian company's director of violating German export controls.