This month's newsletter features an analysis of recent trends in U.S. and EU sanctions against Iran. Whereas in the past these sanctions have focused heavily on Iran's nuclear and ballistic missile programs, over the past two years the focus has shifted dramatically toward targeting human rights violators and drone-related entities.
The newsletter also includes profiles of several China-based entities supplying components to an Iranian manufacturer of military aircraft and drones, as well as news about a British government investigation into drone-related academic collaboration between UK-based and Iran-based researchers, a drone factory that Iran is allegedly helping to establish in Russia, and a new Iranian ballistic missile. Additions to the Iran Watch library include drone- and missile-related sanctions announcements, other sanctions actions related to the repression of dissidents, and the latest International Atomic Energy Agency (IAEA) reports on Iran's nuclear program.
____________________
PUBLICATIONS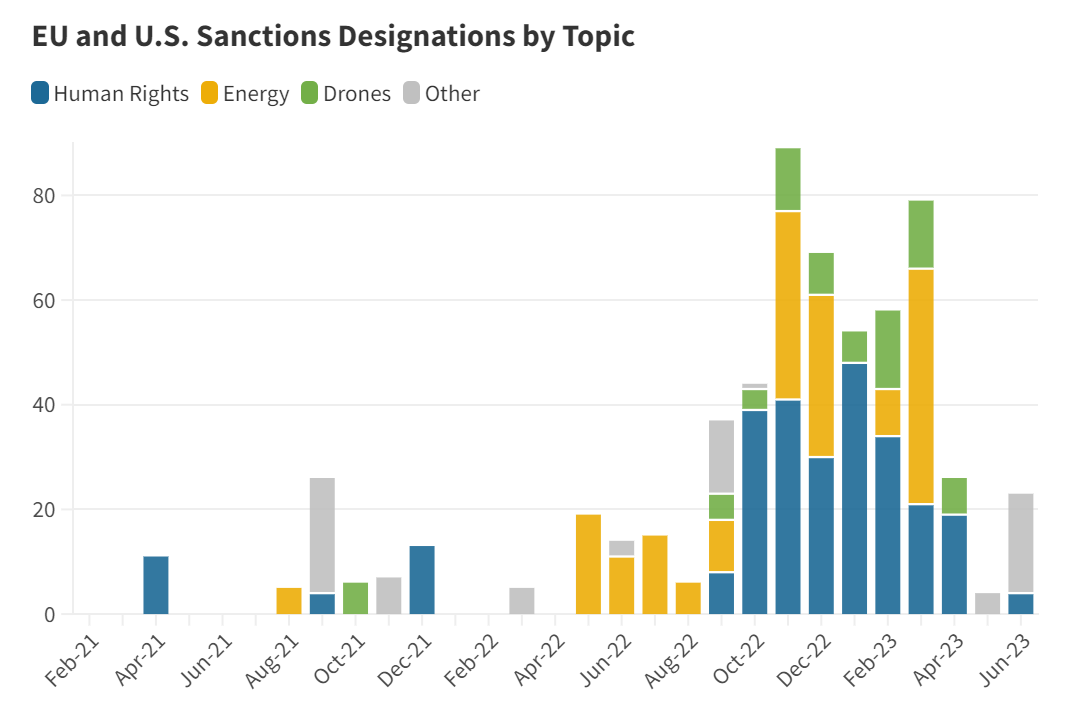 A chart showing the breakdown of EU and U.S. designations against Iran since January 2021. Credit: Wisconsin Project
Article | Drones and Human Rights Now Dominate Sanctions Against Iran
In the past, U.S. and European sanctions against Iran have focused heavily on its nuclear and ballistic missile programs. But over the last two years, that focus appears to have shifted. Since U.S. President Joe Biden took office in 2021, nearly half of all sanctions designations by the United States and the European Union against Iran have targeted human rights violators. At the same time, drone-related sanctions have largely supplanted those on Iran's missile and nuclear program. This may reflect an absence of good targets, with most entities involved in Iran's nuclear and missile work already subject to sanctions, whereas the drone industry represents relatively fertile ground for new designations.
____________________
ENTITIES OF CONCERN
In March 2023, the U.S. Department of the Treasury sanctioned a China-based network supplying Iran's military with aerospace components and supporting its drone program.
Shenzhen Caspro Technology Co., Ltd
A China- and Hong Kong-based company; has shipped hundreds of thousands of dollars' worth of aerospace components to Iran Aircraft Manufacturing Industries (HESA); company officials include Yun Xia Yuan.
A Chinese national; has facilitated the shipment of components to HESA that have applications for fixed-wing aircraft, rotary-wing aircraft, and unmanned aerial vehicles (UAVs); also an employee of S and C Trade Pty Co., Ltd.
Guilin Alpha Rubber and Plastics Technology Co., Ltd
A China-based wholesale supplier of rubber, plastic, and metal products; has facilitated the sale and shipment of thousands of aerospace components to HESA; products include 2000-series and 7000-series aluminum alloys and copper-filled polytetrafluoroethylene (PTFE) rods.
____________________
IN THE NEWS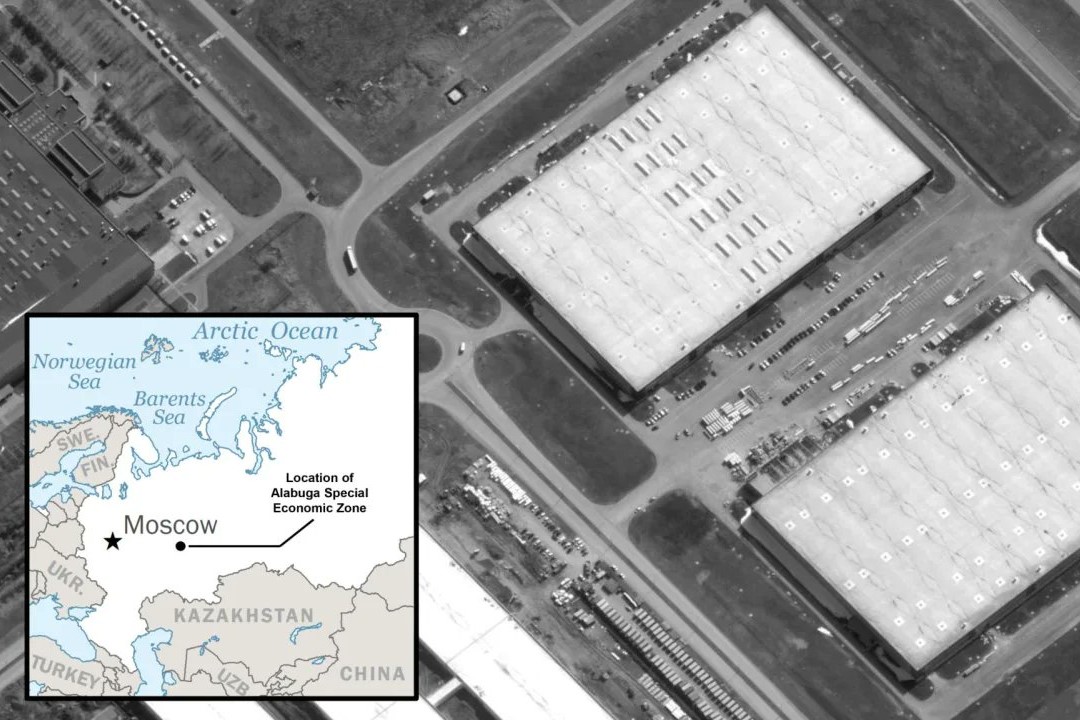 Two buildings in the Alabuga Special Economic Zone, where the White House claims Iran is helping Russia establish a drone production facility. (Credit: White House)
UK Probes Claims British Scientists Helped Iran With Suicide Drone Programme | Financial Times
June 21, 2023: The United Kingdom launched an investigation into allegations that researchers at British universities have contributed to research that could aid Iran's military drone program. The investigation followed a report by the Jewish Chronicle that scientists at universities including Imperial College London and Cranfield University, which has a partnership with the UK Ministry of Defence, worked with Iranian counterparts to publish studies on drone engine performance and aircraft control systems. At least one of the studies, published in 2019, was supported by Iran's Ministry of Science.
White House Says Iran is Helping Russia Build a Drone Factory East of Moscow for the War in Ukraine | Associated Press
June 9, 2023: U.S. National Security Council spokesman John Kirby said that Iran is helping Russia build a drone factory in the Yelabuga region east of Moscow, and that the facility could be operational by early 2024. The White House released a satellite image of the factory's probable location. Kirby also said that Iran continues to supply Russia with complete drones via a shipping route across the Caspian Sea.
IRGC Unveils Hypersonic Missile | Tasnim News Agency
June 6, 2023: Iran unveiled a new ballistic missile, called "Fattah," which the Islamic Revolutionary Guard Corps (IRGC) characterized as a hypersonic missile. The missile's separating warhead has a solid fueled motor and can conduct terminal maneuvers. The commander of Iran's missile force claimed the missile can reach speeds of Mach 13 and has a maximum range of 1,400 km.
____________________
FROM THE LIBRARY
The United States and its partners announced additional efforts to counter Iran's military programs and support for Russia's war against Ukraine.
The U.S. Treasury Department sanctioned Iranian entities for human rights abuses and attempted acts of terrorism.
Iran took modest steps to resolve outstanding nuclear safeguards issues with the IAEA, thereby avoiding punitive action by the Agency's board of governors at its quarterly meeting.