On May 27, the United States sanctioned two of Iran's senior nuclear officials for their role in the country's current uranium enrichment program.[1] This move follows a similar one in March, when the United States sanctioned several Iranian scientists connected to elite academic institutions.[2] Both actions reflect an underused front in the U.S. pressure campaign against Iran: sanctions against universities and scientists with connections to nuclear-military work.
The individuals sanctioned earlier this week are contributing to Iran's current "nuclear brinksmanship," according to U.S. Secretary of State Mike Pompeo, by expanding Iran's gas centrifuge operations. The scientists sanctioned in March played a critical part in the Amad Plan, an Iranian project to develop nuclear weapons in the early 2000s.[3]
The State Department's press release announcing the March sanctions against Ali Mehdipour Omrani, Aref Bali Lashak, Kamran Daneshjou, Mehdi Tehranchi, and Sayyed Mohammad Mehdi Hadavi included limited details on their specific involvement in Iran's nuclear program. However, more can be pieced together through media reports, allegations by a pair of controversial dissident groups calling for regime change in Tehran,[4] and information from a trove of documents that Israel spirited from Tehran in 2018.
Additional open-sources show that Iranian universities employed Daneshjou, Hadavi, Lashak, Omrani, and Tehranchi as professors, researchers, and trustees. Their resumes also reveal ties to the Iranian Ministry of Defense and Armed Forces Logistics (MODAFL), which supports Iran's nuclear program as well as its development of ballistic missiles. Together, these sources demonstrate the relationship between Iran's academic institutions, its military, and its nuclear program.
While the United States has used sanctions to target some of the academic institutions and scientists supporting Iran's nuclear program in the past, more can be done. A number of research centers and universities with connections to the sanctioned scientists and to proliferation more broadly have yet to be sanctioned by the United States. However, further targeting of Iran's academic network would require careful calibration. Such a move could undermine Iranian scientific enterprises unrelated to proliferation or other proscribed activities.
The Academic Risk
 
Daneshjou, Hadavi, Lashak, Omrani, and Tehranchi have collaborated with or worked at a number of universities that have been either sanctioned for their connection to Iranian proliferation or appear on government counterproliferation watch lists.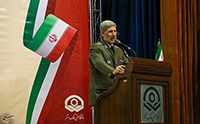 Malek Ashtar University presents the most noteworthy case. This MODAFL-affiliated academic institution is subject to sanctions by the United Nations, the European Union, and the United States for its role in the "possible military dimension" of Iran's nuclear program. The university oversees a research center that carried out studies with applications in the development of nuclear explosives and has supported missile development in cooperation with the Aerospace Industries Organization. The university has employed Hadavi as a member of its scientific committee, Lashak as an assistant professor, and Omrani as a researcher.
For his part, Tehranchi once oversaw Shahid Beheshti University, another MODAFL-linked academic institution sanctioned by the European Union, Australia, and Canada – but not, notably, the United States. The university carries out "scientific research relevant to the development of nuclear weapons," according to the European Union. Tehranchi has also served as vice chancellor of Shahid Beheshti's Laser and Plasma Research Institute, whose work could contribute to Iran's uranium enrichment efforts. Though the 2015 nuclear accord lifted many sanctions on Iran, those targeting Malek Ashtar and Shahid Beheshti remain in place.
Daneshjou has connections to additional academic institutions of concern, including Iran University of Science and Technology (IUST), where he taught, and Tarbiat Modarres University, where he served on the board of trustees. Tarbiat Modarres previously employed Hadavi as an associate professor as well. The Japanese government lists both universities as a risk for nuclear proliferation. The EU has sanctioned Iran Composites Institute, which is part of IUST, for helping Iran evade U.N. sanctions, including through the procurement of centrifuge rotors. Yet neither of the two universities, nor their subordinate research institutes, have been sanctioned by the United States.
Omrani pursued a doctorate at K. N. Toosi University of Technology in the mid-2000s. During that time, and as part of his degree, he allegedly conducted research on explosives and tungsten at a military base in Parchin. Iranian dissidents claim that, as he completed his studies, he was also working for MODAFL. K.N. Toosi is another academic institution – one of thirteen in total – that Japan considers a risk for nuclear proliferation.[5]
The Military Connection
 
The scientists sanctioned by the United States also appear to have direct ties to MODAFL. Daneshjou, for instance, reportedly participated in a MODAFL program to design nuclear weapons prior to 2010. Around 2004, Tehranchi led a photonic project at the Defense Industries Training and Research Institute, a subunit of MODAFL. Hadavi held roles at not one but three MODAFL subsidiaries subject to sanctions by the international community: Iran Aircraft Industries, Iran Helicopter Support and Renewal Industries, and the Iranian Aviation Industries Organization. And Omrani is alleged to have worked for MODAFL while completing his PhD.
Three of the scientists have links to the Organization of Defensive Innovation and Research (SPND), an EU- and U.S.-sanctioned MODAFL research center that succeeded the Amad Plan and oversees Iran's clandestine nuclear work. Lashak allegedly received a delegation of North Korean experts on ballistic missiles and nuclear weapons on behalf of the SPND in 2015. In addition, he has allegedly headed SPND's Center for Research and Design of New Aerospace Technology. For his part, Omrani allegedly directed the Center for Manufacture and Industrial Research at the SPND. He has also worked for the Research Center for Explosion and Impact (METFAZ), an SPND subunit tied to Malek Ashtar University that has been sanctioned by the European Union and South Korea. Tehranchi too has SPND ties, according to a report by the Institute for Science and International Security citing documents from Iran's nuclear program.
The overlap between Iran's universities and its military illustrates how Iran has blurred the lines between academia and officialdom. Hadavi, who has worked for MODAFL, has also taken a post at the Iranian Mines, Industry, and Trade Ministry. Tehranchi chairs the Iranian Supreme Council for Science, Research, and Technology after having advised the Expediency Discernment Council just a few years ago. Daneshjou, who served as Iranian Science, Research, and Technology Minister from 2009 to 2013, exploited this position to vet university applicants in collaboration with the Iranian Intelligence Ministry. The State Department's press release noted that all five scientists continue to work for Iranian government agencies.
A Tradition of Academic and Military Cooperation
 
The five scientists targeted by U.S. sanctions – Daneshjou, Hadavi, Lashak, Omrani, and Tehranchi – are connected to other experts on nuclear weapons who bridge Iran's military and academic communities.  
The most notorious example is Mohsen Fakhrizadeh-Mahabadi, a MODAFL scientist who has long spearheaded Iran's nuclear weapon-related work. Fakhrizadeh-Mahabadi, who remains subject to U.N. sanctions, once headed Malek Ashtar and used the university as a front for his study of nuclear weapons. He later became director of the SPND, where he oversees many of the same scientists who had assisted him with the Amad Plan. Sometime prior to 2007, Iran refused the International Atomic Energy Agency's request to interview Fakhrizadeh-Mahabadi about his involvement in activities that the Agency deemed "highly relevant to a nuclear weapon program."
Fakhrizadeh-Mahabadi has collaborated with Daneshjou and Omrani. And his subordinates at the SPND have included Sa'id Borji, an expert on explosives who earned a doctorate at Malek Ashtar and has worked alongside Omrani. Two other members of Fakhrizadeh-Mahabadi's SPND staff, Gholam Reza Eta'ati and Mohammad Javad Safari, have had an academic affiliation with the Amirkabir University of Technology. This university has conducted research relevant to uranium enrichment, the development of a nuclear implosion device, and missile guidance. In a warning list, Japan has advised that this university may pose a nuclear proliferation risk. The United States has sanctioned Borji, Eta'ati, and Safari, but not Amirkabir.
Next Steps
 
The State Department characterized the sanctions against Daneshjou, Hadavi, Lashak, Omrani, and Tehranchi, as well as those imposed this week against Majid Agha'i and Amjad Sazgar, as an attempt to discourage other Iranian scientists from participating in Iran's nuclear program. "Individuals working for Iran's proliferation-sensitive programs should be aware of the reputational and financial risks to which they expose themselves," read the State Department's March press release explaining the punitive measures. "Iran's scientists and technical experts have two paths: they can use their skills pursuing work on projects that do not pose a proliferation risk, or they can work for Iranian organizations pursuing proliferation-sensitive activities, with the financial and reputational risk such work entails."
To more effectively discourage Iranian scientists from choosing the latter path, the United States could sanction additional universities involved in Iran's nuclear program, or target research centers of concern within those universities. For example, the United States has yet to impose sanctions on a number of academic institutions with connections to missile, military, or nuclear work that appear on other government warning or sanctions lists, including Amirkabir, K.N. Toosi, Shahid Beheshti, and Sharif University of Technology.
Further, the sanctions themselves could be stronger. Daneshjou, Hadavi, Lashak, Omrani, and Tehranchi were added to the Commerce Department's Entity List, which limits their ability to import goods from the United States but falls well short of the restrictions delineated by the Specially Designated Nationals (SDN) and Blocked Persons List maintained by the U.S. Treasury Department. The SDN List imposes far harsher penalties on sanctioned parties, and those who deal with them, all but precluding them from participating in the global financial system. The two nuclear officials sanctioned this week were placed on the SDN List as were Fakhrizadeh-Mahabadi, Borji, Eta'ati, and Safari.
Nonetheless, a decision to punish Iran's academic institutions and scientists comes with risks. Previous such sanctions have invited charges that the United States is undermining Iranian scientific enterprises that have nothing to do with weapons of mass destruction or other proscribed activities.[6] Further moves against institutions that may be only marginally involved in proliferation-related activity could impugn uninvolved academics and students, subjecting them to unintended financial and reputational harm. Future attempts by the United States to pressure the scientists behind Iran's nuclear program will have to take this challenge into account.
Footnotes:
[1] "Keeping the World Safe From Iran's Nuclear Program," Michael R. Pompeo, U.S. Department of State, May 27, 2020, available at https://www.iranwatch.org/library/governments/united-states/executive-branch/department-state/keeping-world-safe-irans-nuclear-program.
[2] "Addition of Certain Persons and Revisions to Entries on the Entity List," Bureau of Industry and Security, U.S. Department of Commerce, Federal Register, Vol. 85, No. 51, March 16, 2020, pp. 14794, available at https://www.govinfo.gov/content/pkg/FR-2020-03-16/pdf/2020-03157.pdf.
[3] "Constraining Iranian Nuclear Scientists," Michael R. Pompeo, U.S. Department of States, March 18, 2020, available at https://www.iranwatch.org/library/governments/united-states/executive-branch/department-state/constraining-iranian-nuclear-scientists.
[4] The People's Mojahedin Organization of Iran and its political offshoot, the National Council of Resistance of Iran.
[5] End User List, May 8, 2020, Japan's Ministry of Economy, Trade, and Industry (METI), available at https://www.meti.go.jp/english/press/2020/pdf/0508_002a.pdf, accessed on May 27, 2020.
[6] "How U.S. Sanctions Are Crippling Science in Iran," Declan Butler, Nature, September 24, 2019, available at https://www.nature.com/articles/d41586-019-02795-y, accessed on April 29, 2020.