This month's newsletter features a policy brief on how Iran's elite academic institutions support proliferation. The policy brief recommends that sanctions against such institutions, and the scientists associated with them, could be a bigger part of the U.S. pressure campaign.  
The newsletter also includes documents related to a new U.S. global maritime advisory, recent U.S. sanctions actions, and the U.S. decision to end nuclear cooperation waivers, as well as profiles of entities supporting Iranian missile procurement and news about an Iranian military bank merger. 
Subscribe here to receive the newsletter in your inbox.
Iran Watch Publications
 
The Academic Pipeline to Iran's Nuclear Program
Earlier this week, the United States sanctioned two senior nuclear officials for their role in Iran's current uranium enrichment program. This follows a similar move in March, when theUnited States sanctioned several Iranian scientists connected to Iran's elite academic institutions. Both actions reflect an underused front in the U.S. pressure campaign against Iran: sanctions against universities and scientists with connections to nuclear-military work.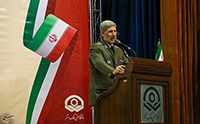 While the United States has sanctioned some of the academic institutions and scientists supporting Iran's nuclear program, more could be done. A number of research centers and universities with connections to the sanctioned scientistsand to proliferation more broadly have yet to be sanctioned by the United States. Many of these entities appear on other government warning or sanctions lists. Further targeting of Iran's academic network would require careful calibration, however, to avoid undermining Iranian scientific enterprises unrelated to proliferation. 
Read the full policy brief here.
Iran Watch Library
 
The U.S. sanctions entities associated with the Iran's Islamic Revolutionary Guard Corps-Qods Force (IRGC-QF) and senior Iranian officials accused of human rights violations. Designations include: 
Congress weighs in on U.S. policy towards Iran: 
Entities of Proliferation Concern:
Shahid Hemat Industrial Group (SHIG), which is responsible for Iran's liquid-fueled ballistic missile program, relies on a string of front companies for missile-related procurement, including: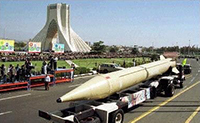 Shahid Varamini Industries - Performs research and development of ballistic missile-related guidance and control systems
Shahid Cheraghi Industries - Develops and manufactures liquid propellant for Iran's ballistic missile program
Shahid Kalhor Industries - Manufactures and maintains missile launchers and ground support equipment for Iran's ballistic missile program 
In the News
 
Iran's Central Bank To Merge Several Military-Owned Banks Amid Economic Crisis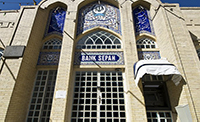 May 25, 2020: Two banks owned by Iran's armed forces, Mehr Eghtesad Bank and Hekmat Iranian Bank, will be merged into Sepah Bank. Mehr Eghtesad Bank was established in 1993 as Basijian Fund to provide banking services to Basiji paramilitary force members.It had an accumulated lost in 2018 of $106 million. Three other banks owned by the Iranian police will be merged with Sepah in the future, including Ghavvamin, Ansar, and the Samen Institute of the Islamic Revolution Guards Corps. Bank Sepah has been sanctioned by the United States for providing commercial and financial support to Iran's missile program.
U.S. Charges Two Iranians Over Oil Tanker Purchase, Seeking $12 Million Forefeiture
May 2, 2020: The U.S. Department of Justice charged two Iranian nationals, Amir Dianat and Kamran Lajmiri, with money laundering and sanctions violations.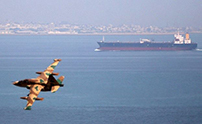 Prosecutors allege that the two laundered money through a network of front companies to buy a petroleum tanker, the Nautic, to transport Iranian oil. The scheme allegedly involved the Islamic Revolutionary Guard Corps-Qods Force (IRGC-QF) and the National Iranian Oil Company (NIOC). According to prosecutors, the defendants used Mr. Dianat's company Taif Mining Services LLC to buy the tanker, but $10 million of the payment was frozen by a U.S. bank because of money laundering and sanctions concerns. The seller later obtained a civil court order that allowed authorities in the United Arab Emirates to seize the tanker. U.S. prosecutors also filed a civil forfeiture complaint in an effort to reclaim the $12.3 million used to purchase the tanker. Separately, the U.S. Department of the Treasury blacklisted Mr. Dianat and Taif Mining Services LLC. Dianat and Lajmiri remain at large and could face up to 20 years in prison if convicted.
Iran Atomic Inspections Continued at a Record Pace Last Year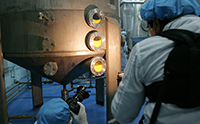 May 5, 2020: According to an International Atomic Energy Agency (IAEA) Safeguards Implementation Report covering inspections in 2019, IAEA staff spent 1,103 person-days on the ground in Iran completing over 400 inspections. The Agency also conducted 33 "complementary access" or surprise visits to sites in Iran. On-site inspections were bolstered by current and historical satellite imagery, which the report described as "extensive and timely." The IAEA has 269 monitors and analysts focused on Iran.