This month's newsletter features an article examining Tehran's growing willingness to supply the Houthi rebels in Yemen with advanced ballistic missiles. It also features an updated report tracking Iran's deployment of centrifuges for uranium enrichment, such as the recent increase in the number of second-generation IR-2m cascades installed at Natanz from six to 15.
In addition, the newsletter includes profiles of several entities sanctioned by the United States for their involvement in Iran's transfer of armed drones to Russia, as well as news about the launch of the Ghaem-100 satellite carrier rocket, a report that Iran may be preparing to help Russia build drones domestically, and increased levels of uranium enrichment at Fordow. This month's additions to the Iran Watch library include the latest set of International Atomic Energy Agency (IAEA) reports on Iran's nuclear program, multiple sanctions announcements, and official responses to Iran's aggressive actions beyond its borders.
Sign up to receive the newsletter in your inbox.
____________________
PUBLICATIONS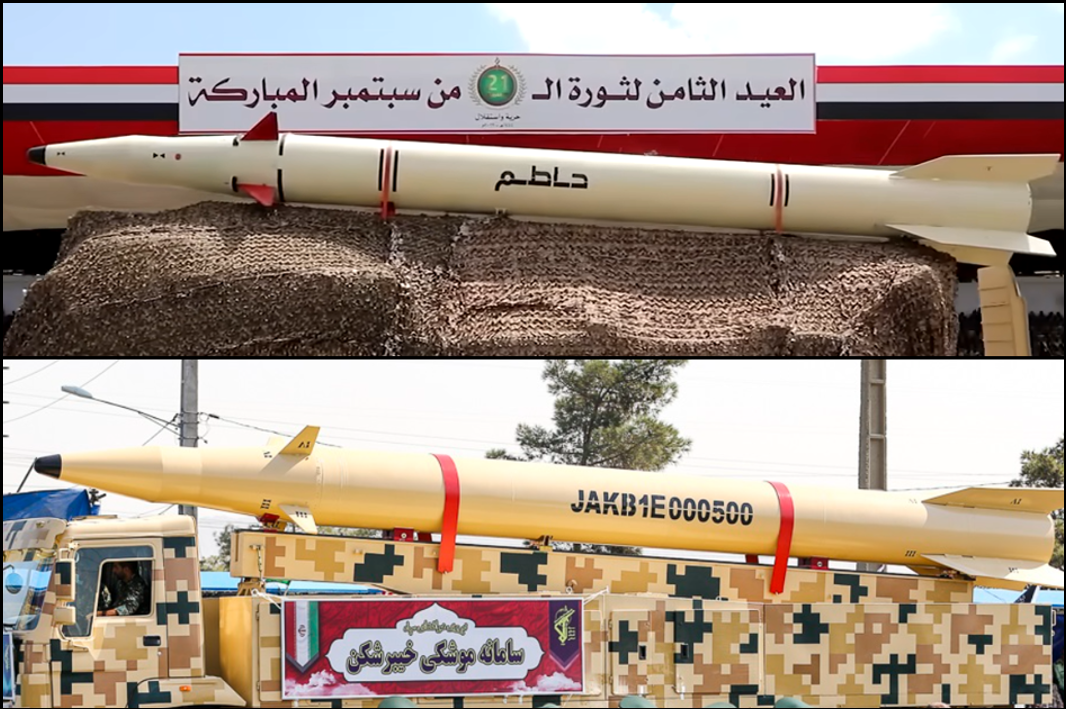 A comparison of the Houthi Hatem (top) and the Iranian Kheibar Shekan (bottom) missiles. (Credits: Screenshot from a YouTube video [top] and Wikimedia Commons [bottom])
Article | Iran Solidifies Missile Support to the Houthis
Both Iran's armed forces and Yemen's Houthi rebels staged major military parades in late September. The two parades offered indications that Iran may be increasingly willing to supply the Houthis with its most advanced missiles, and to run greater risks in doing so. They also illustrated an often-overlooked benefit for Iran of transferring weapons to non-state groups: the ability to collect information on their combat performance.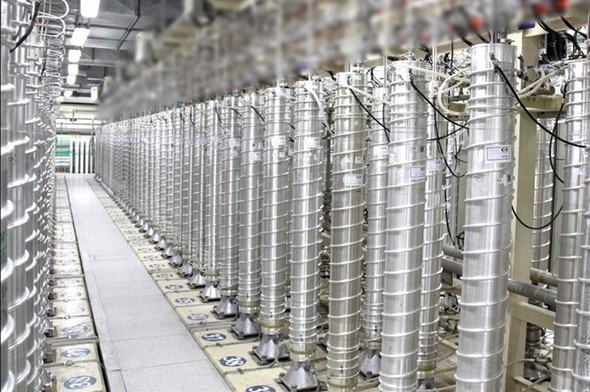 Centrifuges at an enrichment facility in Iran. (Credit: Tasnim News Agency)
Table | Iran's Centrifuges: Models and Status
Iran has developed and deployed advanced centrifuge models that can enrich greater amounts of uranium using fewer machines relative to its original IR-1 design. Since September 2022, Iran completed the installation of nine cascades of IR-2m centrifuges and one cascade of IR-4 centrifuges at Natanz. Iran's increasing mastery of centrifuge design and operation raises the risk of a "breakout" toward the development of a nuclear weapon and reflects an acquisition of knowledge that cannot be reversed.
____________________
ENTITIES OF CONCERN
In September, the U.S. Department of the Treasury sanctioned five Iranian entities involved in the production of unmanned aerial vehicles (UAVs) and the shipment of weapons to Russia.
Aero Engines Design and Manufacturing Company
A company that specializes in building air-breathing engines for airplanes, helicopters, and drones; a subsidiary of the Iran Aviation Industries Organization (IAIO); customers have included the Islamic Revolutionary Guard Corps (IRGC) and the Aerospace Industries Organization (AIO).
An Iran-based company that produces light and ultra-light aircraft; was involved in the research, development, and production of the Shahed-171 UAV for the IRGC Aerospace Force; is closely associated with Imam Hussein University (IHU), an IRGC-controlled institution.
An Iran-based company involved in the manufacture of UAVs; has worked on components for Shahed-series UAVs for the IRGC; company officials include Rahmatollah Heidari.
____________________
IN THE NEWS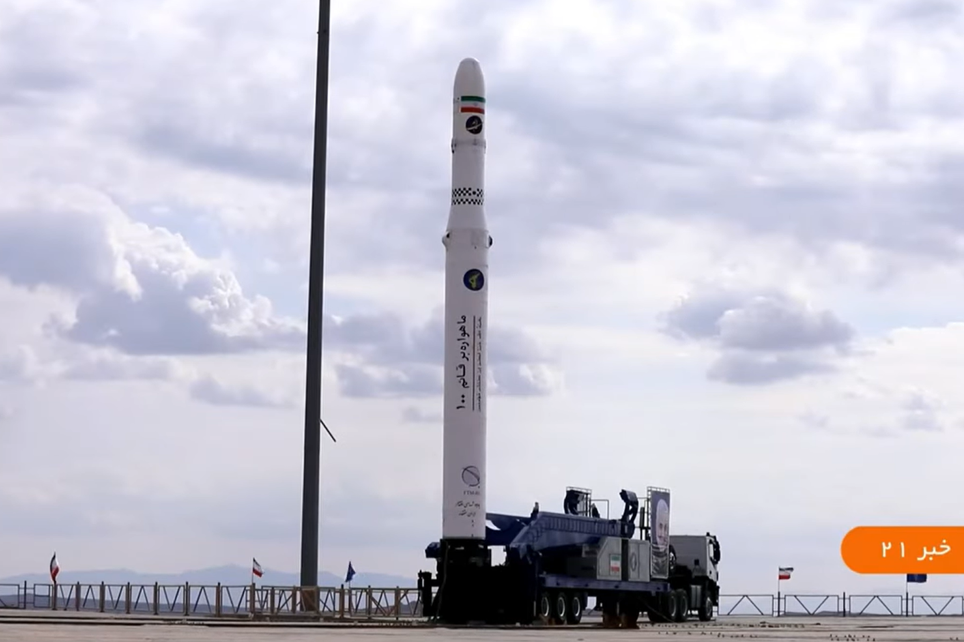 The Ghaem-100 space launch vehicle shortly before liftoff. (Credit: Screenshot from an IRIB news broadcast)
Iran Begins 60% Uranium Enrichment in Fordow | Tasnim News Agency
November 22, 2022: Iran's nuclear agency announced it has begun enriching uranium up to 60 percent purity at its underground Fordow site for the first time. Previously Iran had been enriching to 60 percent only at the Natanz site. The agency also stated its intent to replace first generation centrifuges at Fordow with the more advanced IR-6 machines and to install an additional eight cascades there.
Iran Will Help Russia Build Drones for Ukraine War, Western Officials Say | Washington Post
November 19, 2022: Russia and Iran have reached an agreement to manufacture inexpensive weaponized drones in Russia, according to unnamed security officials. The two countries are preparing to transfer designs and components to allow production to begin within months.
Iran Revolutionary Guard Launches Rocket Amid More Protests | Associated Press
November 5, 2022: Iran's Islamic Revolutionary Guard Corps (IRGC) successfully launched a new solid-fueled space rocket. Iran claims that the rocket, called the Ghaem-100, will be able to put an 80-kilogram payload into a 500-kilometer orbit. The head of the IRGC Aerospace Force Amir Ali Hajizadeh said that the rocket would soon be used to place a Nahid satellite into orbit.
___________________
FROM THE LIBRARY
At its quarterly meeting, the IAEA board of governors adopted a resolution condemning Iran for failing to meet its safeguards obligations.
In November, the European Union, the United States, and other Western countries sanctioned Iranian entities involved in human rights abuses, military support to Russia, and sanctions evasion.
Iran engaged in several aggressive actions beyond its borders.